Gloucestershire dog attack toddler meets fire heroes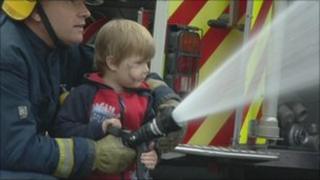 The family of a two-year-old boy who was savaged by a dog earlier this month are hoping a visit to his local fire station will help his recovery.
Joshua Mann needed 200 stitches to his face after the attack at his grandparents' farm near Cheltenham.
The toddler, who is a fan of the cartoon character Fireman Sam, was invited to Gloucester fire station after a request from his grandfather.
His family said they hoped it would help take his mind off his ordeal.
Joshua tried on a fire helmet and gloves, sat behind the wheel of a fire truck and used a fire hose as part of his visit to Red Watch.
Rough time
"It's just nice to see him happy," said his mother Lisa.
"He hasn't been smiling very much over the past couple of weeks. He's in his element here, running around and he loves Fireman Sam."
His grandmother Wendy added: "He's going through a rough time, psychologically.
"He doesn't sleep very well. He's crying all the time, so something like this we can talk over in the evening, he'll remember it and it'll make him feel so much happier. Something nice to remember for a change."
Joshua, who turns three next month, has had four operations since the attack and is to have physiotherapy and speech therapy.
His mother said he would be scarred for life.
The collie dog which attacked him has been put down.