Dead peregrine falcon in Coleford quarry was poisoned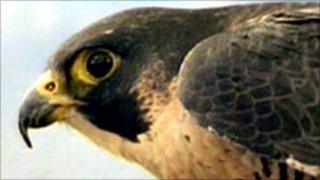 A peregrine falcon found dead in a Gloucestershire quarry had been poisoned, tests have revealed.
The female bird was discovered in the quarry in Coleford by a member of the public in June, and an officer from the RSPB abseiled down to recover it.
Toxicology tests were carried out by Natural England under the government's Wildlife Incident Investigation Scheme.
It is not known whether a chick also found dead in the nest was poisoned or starved to death after its mother died.
Shot dead
Birds of prey are a protected species which means it is illegal to harm or kill them.
A joint investigation has been launched by the RSPB, police and Natural England.
The offender, if caught and convicted, could be sentenced to up to six months in prison and fined up to £5,000.
It is thought that peregrines may be illegally killed as a result of concerns about predation of game birds or racing pigeons.
Last year, at another site near Coleford, a peregrine was found shot dead.
Jon Palfrey, rural and environmental crime officer for Gloucestershire Police, said: "We don't know why whoever did this would want to harm the bird and the incident is being thoroughly investigated.
"We'd also like to continue to encourage local residents to report any information they have about anyone harming these, or any other, birds of prey."