Service formally welcomes ARRC unit to Gloucestershire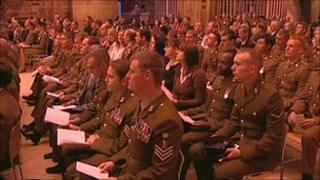 A service to welcome formally the Allied Rapid Reaction Corps (ARRC) to Gloucestershire has taken place at Gloucester cathedral.
The Nato unit arrived from Germany in the summer at a new base at Imjin Barracks at Innsworth.
Thursday night's service came as it was announced members of the force will be deployed to Afghanistan next year.
Commander Lt General Sir Richard Shirreff told the congregation that the unit had made the county its home.
"We are all now soldiers in Gloucestershire and when we deploy, we will be soldiers from Gloucestershire," he said.
'Important peacemakers'
"So our presence here tonight is a symbol not only of your hospitality and willingness to accept us, but also of our determination to contribute as much as possible to the community we have been welcomed into so warmly and with real affection."
The Dean of Gloucester, the Very Reverend Nicholas Bury, said he was proud and privileged to be part of the welcome.
He said: "I chose a reading from Jesus teaching. Blessed are the peacemakers because I regard you and I hope you regard yourselves as very important peacemakers."
More than 2,000 troops from 15 nations, have relocated to the Imjin Barracks.
The site was a former RAF station which closed in 2008 as part of an MoD savings review.