Gloucestershire-based ARRC soldiers to go to Afghan war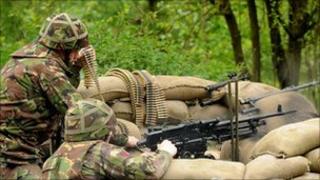 Parts of Gloucestershire's newly-based NATO troops are to be deployed to Afghanistan, the Armed Forces Minister Nick Harvey has confirmed.
About 250 soldiers from the Allied Rapid Reaction Corps (ARRC) will be deployed for 12 months from January.
They will be taking over from the current French command and will be based in Kabul.
Some 450 soldiers from 15 different nations relocated from Germany to the Imjin Barracks at Innsworth in June.