Boy scarred for life after Gloucestershire dog attack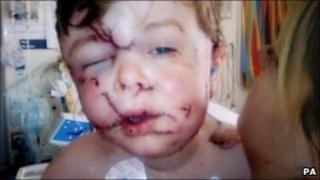 A two-year-old boy will be scarred for life after he was attacked by his grandmother's collie dog.
Joshua Mann needed 200 stitches to his face following the attack at his grandparents' farm near Cheltenham in Gloucestershire on Saturday.
He will need more surgery before he can return home to Brockworth, near Gloucester.
His mother, Lisa Mann, 23, said she he would be scarred for life and she initially thought he was going to die.
"All I wanted to do was pick him up and hold him, but I wasn't allowed.
"It was the worst feeling ever."
The attack happened at the farm in Andoversford.
'Scars all over'
Miss Mann explained: "Joshua was stroking the sheep dog, Rossie, when the dog jumped up and latched onto his face.
"Rossie pulled him to the ground and wouldn't release him.
"His dad and others ran over and started punching the dog to get him to let go."
Joshua was taken to the Gloucestershire Royal Hospital and had two operations to repair the damage to his face.
He underwent third operation later.
Deep wounds
Miss Mann said the parents of young children should take care around all dogs, and not just those considered to be dangerous breeds.
Speaking about her son's injuries, she said "You could see right through his cheek to his teeth, the cut went through to the inside of his mouth.
"He also has wounds to his neck that were millimetres from the main artery carrying blood to the brain.
"He has scars all over his back, the back of his head and behind his ear."
The dog has been put down.