Bid for Gloucestershire motorway services inquiry fails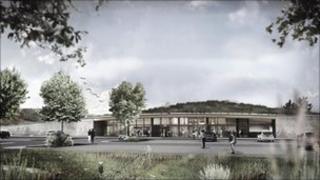 A request for a public inquiry into plans to build a service station on the M5 in Gloucestershire has been turned down.
Planning permission for the scheme at Brookthorpe was granted last month, but the Campaign to Protect Rural England (CPRE) wanted the decision "called in".
A CPRE spokesman said it would affect the beauty of the countryside.
Eric Pickles, Secretary of State for Communities and Local Government, said he saw no reason to hold an inquiry.
'Extensive consultation'
Stroud district councillors voted six to four in favour of the £35m scheme between junctions 11a and 12.
The CPRE's director for Gloucestershire, David Brook, said: "It will affect the Cotswold hills and Cotswold Area of Outstanding Natural Beauty.
"It will be very visible from the top of the scarp and, indeed, it will interrupt the views of the scarp from elsewhere in the county.
"We are concerned particularly about the effect on the beauty and tranquillity of the area - noise, bustle, lights and so forth."
The service station, a joint venture between Gloucestershire Gateway Trust (GGT) and Westmorland Limited, will be part-operated by a charity.
They have said the services will create 300 new jobs for the area and serve locally-sourced food. A percentage of profits will be distributed by GGT to local voluntary groups.
Mark Gale, from GGT, said: "We are very pleased the secretary of state has decided to allow the decision made by local politicians after really extensive public consultation.
"We are really keen now to press ahead and deliver the benefits of jobs and local producers and money for local charities."