Man awarded Gloucestershire Medal for river rescue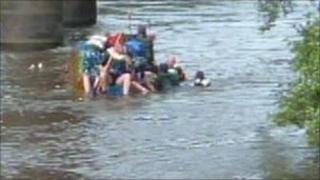 A builder has been awarded the Gloucestershire Medal for bravery after saving the life of a man who became trapped under a raft on the River Wye.
Darell Thomas, who was watching a charity race at Redbrook in September 2009, jumped into the river fully dressed and recovered the crew member.
Andrew Ryan had stopped breathing and Mr Thomas gave him first aid before the air ambulance arrived.
Mr Ryan, 44, said he was "extremely grateful" for Mr Thomas's help.
Cannot swim
He was one of 10 on board when it capsized as the crew tried to dodge eggs and flour thrown by spectators as part of the race tradition.
Mr Ryan from Blackwood, Caerphilly county, who cannot swim, became trapped underneath for five minutes.
Mr Thomas said: "There was a young lad on top of the raft yelling 'help help this is serious' and I heard a man on a canoe say there was someone underneath."
Mr Thomas jumped into the water, swam out and then pulled him back to the bank.
"I gave him two breaths but his lips were cold and I just couldn't do it [anymore] so I started rubbing his diaphragm in a circular manner and he started breathing again.
"I was one small part of the rescue and there were load of others there - they all ought to have a medal to be honest," he added.
He was presented with his award by Sir Henry Elwes, the Lord-Lieutenant for Gloucestershire before a full council meeting on Wednesday.
Sir Henry said he was very proud to award someone who had risked their own life and saved another.
"You can't do much better than that in the county and this young man didn't really expect a reward or recognition for what he did - and that's what's so nice about it.
Mr Ryan did not want to speak publicly but told BBC News he said he owed his life to Mr Thomas and said he was "extremely grateful" for what he did.