Pete Waterman launches £1m Gloucestershire railway appeal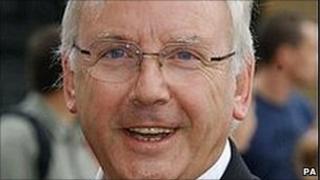 A £1m appeal to repair a collapsed embankment on a heritage rail line has been launched by rail enthusiast and music producer Pete Waterman.
The landslip severed the Gloucestershire Warwickshire Steam Railway (GWSR) line just south of Gotherington station near Cheltenham.
More than 820ft (250m) of track is affected.
Waterman, who is president of the GWSR, said getting the railway's full length reinstated was vital.
"That's not just for the future of the railway which has been steadily rebuilt by its entirely-volunteer workforce over the past 30 years, but for the local tourist economy as well," he said.
Big business
"Heritage railways are big business in Britain and the GWSR, or Honeybourne Line, is no exception.
"People who visit it use local facilities and go to other tourist attractions. When it suffers, they suffer too."
He said the £1m appeal would not only finance repair of the landslip, but would allow the railway to take steps to ensure such an incident did not happen again.
The Honeybourne Line owns 15 miles (24km) of trackbed, closed by British Railways in 1976, between Cheltenham and Broadway, of which 10 miles has been re-opened.
The railway is planning to open the line to Broadway in 2015 and expects to continue north to Honeybourne and form a junction with the upgraded Worcester to Oxford line.
About 70,000 passengers use the heritage line every year.