Copper thieves in Gloucestershire are risking lives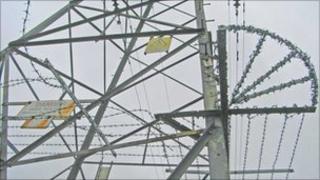 Copper thieves have been risking their lives by climbing electricity pylons carrying 33,000 volts.
A Central Networks spokesman said 10 of the 20m-high (65ft) pylons between Saul and Lydney had been targeted in the past few weeks.
He said in the past people had broken into sub-stations or cut down poles to steal the copper, but he believed scaling pylons was a first.
The company is now offering £1,000 for information leading to a conviction.
"Climbing a pylon carrying 33,000V is taking a gamble on your life... it's incredibly stupid," the company spokesman said.
"This is a really disturbing series of incidents. We take these attacks very seriously and we want to see the perpetrators caught and brought to justice.
"At some of the pylons, overhead lines have been left dangling in a very dangerous manner, and our engineers have had to carry out extensive repairs," he added.
The company spokesman declined to say how much the cable was worth.
Anyone with information is asked to contact Gloucestershire Police or Crimestoppers.