Thousands fined for flouting Gloucester bus lane rules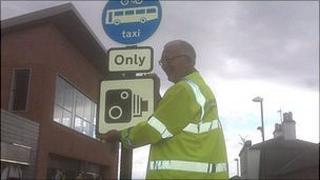 Penalty tickets have been issued to 5,700 drivers caught illegally using a bus lane in Gloucester.
A CCTV camera was installed on Llanthony Road Bridge six weeks ago to deter motorists from driving through the pedestrian area.
Illegal usage has dropped from about 2,000 times a day to 170 currently, but the county council said the number was still too high.
Money from the £60 fines will go towards maintaining the scheme.
The bridge is used by people walking between the new Gloucester Quays shopping centre, Gloucestershire College and the city centre.
Unacceptable excuses
The bus lane is permitted for buses, emergency vehicles and taxis only.
Of the 5,700 notices issued, 64% have been paid, one per cent have appealed against the notice and the remainder are outstanding.
A council spokesman said some offenders had blamed their satellite navigation systems for taking them over the bridge, but it was not an acceptable excuse.
Parking and transport manager Philip Williams said: "While we're disappointed that there are still on average 170 drivers flouting this law every day, we know that the camera is working and we hope to see this figure drop even further in future.
"This is not about making money for the council, it's about ensuring pedestrians have safe passage around the docks and helping park-and-ride buses stick to their timetables and people need to realise they cannot keep making excuses for doing this."