Cotswolds beauty spot to charge visitors for parking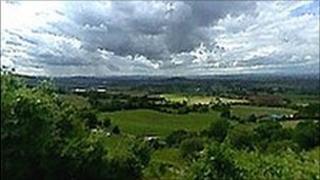 Parking charges are being introduced at a Gloucestershire beauty spot to help keep up services threatened by severe budget cuts.
Visitors to the 150-acre Crickley Hill country park will pay between £1 and £3 depending on their length of stay.
The county council said the money would safeguard services such as barbecue equipment, picnic tables and toilets.
The charges are being criticised by some park users who say use of the facility should be free.
Financially sustainable
Paul Calleja-Gera, leader of Shurdington scout group, said it was a "misguided decision".
"Here we are, desperately trying to get our children and some adults to leave their computers and television screens and come out and enjoy the beautiful country side in Gloucestershire and suddenly we're going to have to pay for the privilege," he said.
The authority said it needed to generate an income to pay for the upkeep of the park and introduce a time-controlled security gate to tackle night-time vandalism.
A spokesman said: "[The council] does not have to provide these services by law and with the severe budget pressures faced, these services may be cut unless the site can raise income and be financially sustainable".
The charges are due to be introduced next month.