'Rogue traders' jailed for conning elderly victims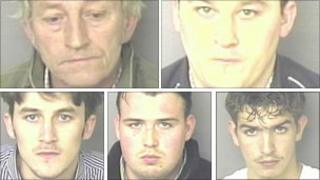 Five men have been jailed after conning elderly householders into paying thousands for unnecessary work.
The men, who lived at traveller sites in South Cerney and Gloucester, all pleaded guilty to conspiracy to defraud charges at Bristol Crown Court.
Speaking outside court a police spokesman paid tribute to the victims.
"Many are elderly and vulnerable but showed extreme courage and determination to bring this matter to a successful conclusion," he said.
Officers from Gloucestershire Constabulary and the Avon and Somerset force took part in the operation which ran between 2003 and 2008.
'Finances investigated'
Police said six victims in Gloucestershire and five from South Gloucestershire had handed over almost £200,000 for "substandard or unnecessary work".
The spokesman added: "Today's [Thursday] sentence shows clearly that rogue traders will not escape justice simply by crossing police force borders.
"Tradesmen who target elderly and vulnerable people in this way will not be tolerated by either force.
"Although the victims collectively lost a large sum of money to this group, the defendants' finances are being thoroughly investigated under the Proceeds of Crime Act."
David Evans, 57, was jailed for six years and four months; Buddy Evans, 29, for five years and six months; Shannon Evans, 21, for three years and seven months; Stephen Maloney, 21, for 13 months and Patrick Maughan, 22, for two years and six months.