New rules for closed bin lids introduced in Cheltenham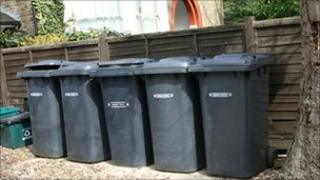 The way household rubbish is collected in Cheltenham is changing and new rules stipulate that wheelie bin lids "must be firmly closed".
In the initial stages, residents who forget to close their lids will be reminded by a sticker on their bin which will still be collected.
The council said open lids snag on the lifting machinery and are a potential safety hazard to the staff.
The changes are being introduced to encourage people to recycle more waste.
Councillor Roger Whyborn, from Cheltenham Borough Council, said: "We're changing the way we do things in Cheltenham, so it all ends up in the bin instead of with the bin lid open or in black bags next to the bin.
'Heavy brigade'
"We're concerned about rats and foxes and they can't get into the bin if they're closed.
"Also if the bin can not be closed it can be dangerous when they unload the bin into the lorries.
"There was an accident in another part of the country which was very nasty.
"We're going to do it a step at a time. If people have overloaded their bins, we shan't be sending the police or the heavy brigade round.
"We'll just put a sticker on the bin asking them to try and organise their waste so they get it all in the bin."
The changes take place from 1 September.