Spelling mistake on new road sign for Cotswold Airport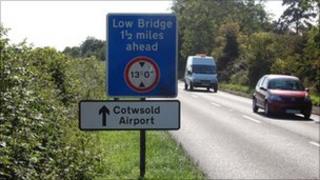 A spelling mistake has been spotted on an official road sign for an airport in Gloucestershire.
The sign for Cotswold Airport on the A429 near Cirencester gets the "s" and the "w" the wrong way round.
A spokesman for the county council, which installed the sign, said: "Thanks for bringing it to our attention.
"If it is wrong we'll be asking the manufacturer to put it right at their cost." The airport changed its name from Kemble Airfield a year ago.
Nick Howard, manager at the airport, said: "The sign had been up for a couple of weeks before we received an e-mail saying it was wrong and I thought, my goodness I drive past it every day.
"I had even looked at it and thought 'good the sign is up' so it just shows you that the right letters were there and I just fed them into my brain as I drove past.
"We are grateful for the signs but we're hoping this one will be put right as soon as possible."