Advert woos firms to Gloucestershire over car park tax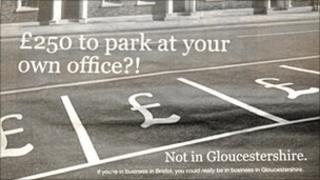 A newspaper advertisement is encouraging Bristol businesses to relocate to Gloucestershire to avoid possible workplace parking charges.
Gloucestershire County Council said firms were under enough pressure without having to pay another bill.
"We're committed to no business parking charges," the advertisement stated.
Bristol City Council said the plan to charge for workplace car parks was at "an extremely early stage".
Bristol Council leader Gary Hopkins said the city had to invest in its transport services.
"We are an extremely successful economy but with that success comes problems.
"Businesses say the one thing that needs sorting out is better public transport.
"That's what the money is for," he added.
'Pro-business stance'
But the leader of Gloucestershire County Council, Mark Hawthorn, said the £2,000 Bristol Evening Post advert was not an attack on Bristol or the decisions the council had to make.
He said: "There is an opportunity just down the motorway for businesses that want to move, or are thinking of relocating, to Gloucestershire.
"We are very keen to attract businesses into Gloucestershire and have decided not to introduce this [workplace parking] levy.
"To try to hit businesses coming out of recession with the charge is clearly something controversial."