Cotswold church aims to have zero carbon footprint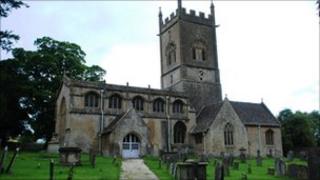 A Grade I-listed church is installing solar panels in an aim to be the first in the UK to become carbon neutral.
A project costing about £40,000 will kit out St Michaels and All Angels Church in Withington so it can even sell energy back to the National Grid.
By the end of September, the Cotswold Norman church will have 22 solar panels on the roof, low-energy lighting and a biomass boiler.
Outside floodlights are now switched off from May to September.
'Rather chilly'
Project leader and congregation member Matt Fulford said it was "inherently difficult" to heat old churches as, he said, "anybody that's attended rather chilly church services will pay testament to".
But Mr Fulford said money raised from the sale of electricity should raise enough income - around £2,500 a year - to buy sawdust pellets for the biomass boiler.
Only using floodlights from dusk until 2230 GMT in the winter and low-energy internal lighting has already reduced the building's electricity use by 40%.
Mr Fulford said: "We wouldn't necessarily advocate every other church should go exactly the same way as we have.
"What we are really trying to do is demonstrate what is possible, not just in this church but other Grade I-listed buildings."
The project costs have been almost entirely met through grants from the Gloucestershire Environmental Trust, the Department of Energy and Climate Change, the Big Lottery Community Sustainable Energy Programme and a private donation.
The church also used some of its own funds which it would have had to spend on replacing the new boiler.