Gull attacked with a screwdriver in Cheltenham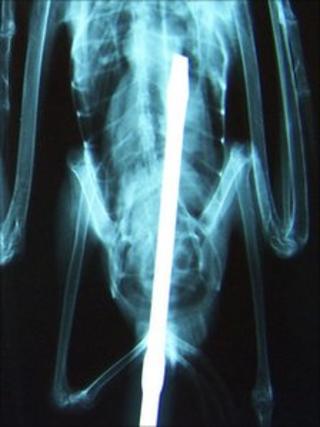 A lesser black-backed gull has been found with a screwdriver rammed into its body in Cheltenham.
The injured bird was discovered by staff in the car park of the McDonald's restaurant, in Kingsditch Lane.
The staff nursed the bird until an RSPCA officer arrived and took it to a wildlife centre for treatment.
Welfare officer Ben Jones said it was "without doubt" an intentional act and said the prognosis was poor.
He said: "I can't quite get my head around the fact that human beings could want to do something so nasty and vicious to a living creature."
He said the screwdriver had been pushed into the gull's back passage, hitting the spinal cord and causing paralysis to its legs.
CCTV footage of the area is being examined by the RSPCA and officers appealed for anyone who saw anything suspicious between 1700 and 1800 BST on Saturday to come forward.