MP says Kemble to Swindon railway upgrade is in doubt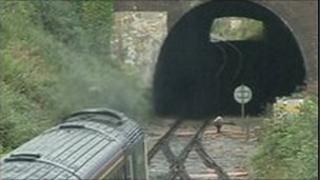 Cheltenham MP Martin Horwood has said the Kemble to Swindon railway line upgrade is in doubt, after he met Transport Minister Theresa Villiers.
A feasibility study by Network Rail has shown converting the line into a dual track would cost about £52m.
The Liberal Democrat MP said there were "clearly threats" to the project because of proposed cuts to the government's transport budget.
Ms Villiers said all transport spending had to be assessed "with great care".
The previous government had committed £45m to the project.
Mr Horwood said the rail plan was "clearly a candidate for cuts".
He said: "We need to demonstrate lots of support for this project to make sure it still goes ahead."
Remove bottleneck
Mr Horwood was joined by other Gloucestershire MPs in meeting the minister.
He said he hoped politicians from other areas affected by the railway line would join their fight.
"The point we were making is this is a very important project for Gloucestershire, for local business, for green growth.
"This is the kind of investment in the public transport system we really want to see if this government is to live up to its claims to be the greenest government ever."
He said the minister told him she did not yet know the scale of the cuts in her department, but that he left the meeting feeling that there was a "50/50" chance of the project going ahead.
"We aren't going to know for a while," he said.
Ms Villiers told BBC Gloucestershire: "I recognise the benefits that doubling the Swindon to Kemble line could bring.
"However, the pressing need to tackle the public finance position inherited from the previous government means that we have to assess all transport spending with great care to ascertain what projects are affordable."
Doubling the line from single-track to a two-way service would remove the bottleneck on the Cheltenham to London route.