Warning letter sent before Cotswold Water Park death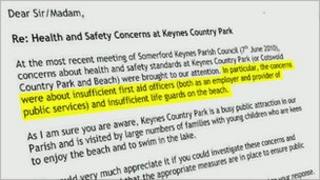 A letter raising concerns about a water park in the Cotswolds and written a month before a girl died after an accident has been sent to the BBC.
The 15-year-old was pulled from a lake at the Cotswold Water Park on 11 July but died the next day. Witnesses claimed there were not enough staff.
Somerford Keynes Parish Council wrote to Cotswold District Council's health and safety officer on 11 June.
Its concerns were about "insufficient first aid officers and lifeguards".
A spokesman for Watermark, which manages the park and beach, told the BBC it was not aware of the letter and said there were enough staff on duty on the day of the incident.
Watermark also said that neither the parish nor district councils had mentioned any safety concerns to the company.
Watermark issued a statement on Tuesday which said four lifeguards, two off-duty lifeguards and two managers had been on site to deal with the situation.
The parish council discussed its concerns about the standards at the water park, which is also known as the Cotswold Country Park and Beach, at a meeting on 7 June.
The letter which was sent to the district council highlighting these concerns said: "In particular, the concerns were about insufficient first aid officers [both as an employer, and provider of public services] and insufficient lifeguards on the beach.
"As I am sure you are aware, Keynes Country Park [or Cotswold Country Park and Beach] is a busy public attraction in our parish and is visited by large numbers of families with young children who are keen to enjoy the beach and to swim in the lake.
"We would very much appreciate it if you could investigate these concerns and satisfy all concerned that the appropriate measures are in place to ensure public safety at this amenity."
Cotswold District Council received the letter on 30 June and passed it to the Health and Safety Executive.
Liberal Democrat councillor Esmond Jenkins, from Cotswold District Council, said: "There's a question mark now as to whether Cotswold District Council realised they had been responsible for the place or are indeed responsible for the place in health and safety terms since January 2008.
"Clearly we will need clarification of that in the very near future."
The district council is carrying out a joint investigation with the police.