Raiders take Cheltenham Gold Cup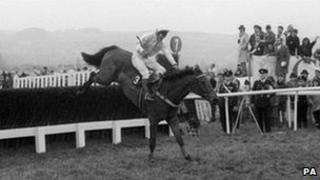 A Cheltenham Gold Cup trophy has been stolen from a house in Gloucestershire.
The cup - a new one of which is presented every year to the winning owner - is the UK's most prestigious steeplechase prize.
It was taken during the break-in at the home of Raymond Mould, whose horse Charter Party won in 1988.
Mr Mould said the raid had been a "very well targeted burglary" and added: "The Cheltenham Gold Cup means a huge amount to me."
Police said other racing trophies were also taken, with a total value of about £150,000.
Mr Mould, who lives in Wormington near Broadway, added: "I'm trying to total up how much is gone but it's a lot more than the figures in the news.
"They've left the plinths behind which is good news. I know exactly what they have taken."
He said among the stolen trophies were the Britannia Handicap Cup, won at Royal Ascot a few weeks ago, and the Grand Annual, won at Cheltenham in March.
All his silver cutlery and bronzes had also been taken.
Mr Mould said the Grand National trophy he won with Bindaree in 2002 had been on a landing and was left behind.
He said he hopes the Gold Cup, which was won by his late wife, is not destroyed, adding: "What's the point in melting it down? To me it's worth a fortune.
"It's the sentimental value, not the monetary value that's at play here."