Colchester MP Will Quince resigns as children's minister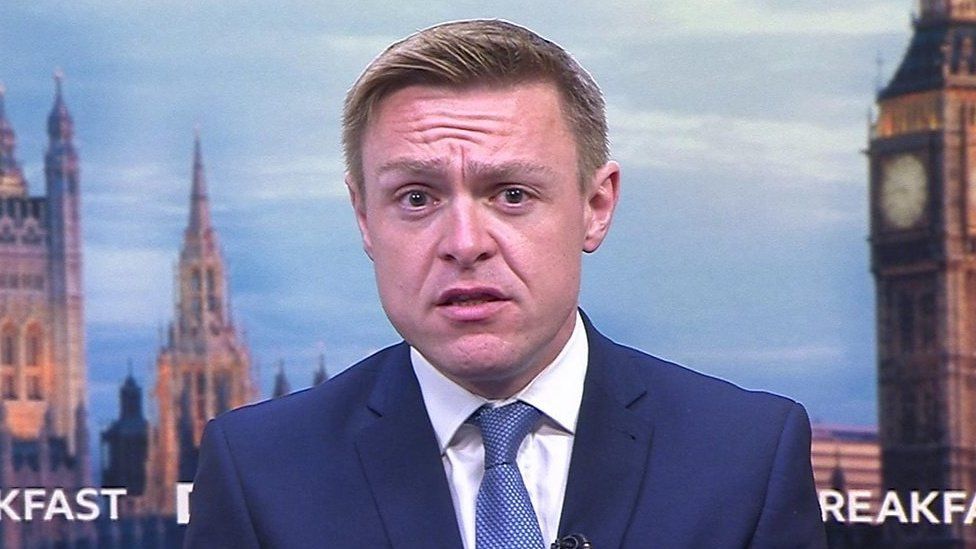 Colchester MP Will Quince has resigned from his role as minister for children over "inaccurate briefings" about the Chris Pincher affair.
On Monday, Mr Quince defended Boris Johnson and said the prime minister "was not aware" of allegations made against Mr Pincher.
The PM later said he had been informed of a formal complaint against the Conservative deputy chief whip in 2019.
Mr Johnson said it had been a "bad mistake" to appoint Mr Pincher.
During his defence of the PM on Monday, Mr Quince said he had spoken to Number 10 and asked "firmly and clearly" what had happened.
He said it was made clear to him that "the prime minister was not aware of any allegation or complaint made against the former deputy chief whip Chris Pincher".
However, that line quickly unravelled and Mr Johnson admitted on Tuesday that he had known about a complaint dating back to 2019, but said he had forgotten about it.
In his letter to Mr Johnson, Mr Quince thanked him for "your sincere apology regarding briefings I received from No 10 ahead of Monday's media round, which we now know to be inaccurate".
However, he added that he had "accepted and repeated assurances" in "good faith" so now had "no choice" but to resign.
"With great sadness and regret, I have this morning tendered my resignation to the prime minister," he said on Twitter.
"I wish my successor well - it is the best job in government."
With great sadness and regret, I have this morning tendered my resignation to the Prime Minister after I accepted and repeated assurances on Monday to the media which have now been found to be inaccurate.

I wish my successor well - it is the best job in government. pic.twitter.com/65EOmHd47p

— Will Quince MP 🇬🇧 (@willquince) July 6, 2022
Mr Quince was elected Conservative MP for Colchester in 2015 after beating the Liberal Democrat incumbent, Sir Bob Russell.
Darius Laws, who leads the Tories on Colchester Borough Council and is a friend of Mr Quince, said the former minister had been absolutely dedicated to reforming special educational needs in this country.
"I think Will has done the right thing today, it must have been a difficult decision for him because he was at the heart of government," Mr Laws said.
The former MP for Basildon and now Labour leader in the House of Lords, Baroness Angela Smith, said the resignations were "disastrous for the country".
"It's humiliating for a minister to be put in that position so I understand why he's resigned," she said.
A key backbencher and the MP for Harlow in Essex, Robert Halfon, issued a statement saying he had lost confidence in the PM.
Speaking to the BBC he said "enough is enough" and added "we need a clean break".
"I just think we've reached an end point, and I feel that I've been misled about what's gone on over the last week with this individual [Mr Pincher]."
Meanwhile, two other Essex MPs have quit as junior ministers and signed a joint letter of resignation to the prime minister with three other MPs.
Kemi Badenoch, the levelling up minister and MP for Saffron Walden, announced the move was made with "great regret".
In a tweet, Ms Badenoch said: "It has become increasingly clear that the government cannot function given the issues that have come to light and the way in which they have been handled.
"In good faith, we must ask that, for the good of the party and country, you step aside."
Alex Burghart, the MP for Brentwood and Ongar was one of the other signatories, and he resigned as a junior education minister.
By Simon Dedman, BBC Essex political reporter
Timing is everything in politics. While his former boss at the Department of Education, Nadhim Zahawi, was on the airwaves, Will Quince resigned as junior minister.
On Monday, he had been "mugged off" by Downing Street according to his friend the Conservative group leader on Colchester Borough Council.
Just before his grilling from senior MPs on the Liaison Committee, chaired by Harwich's senior backbencher Sir Bernard Jenkin, two other ministers from Essex quit - Kemi Badenoch (Saffron Walden) and Alex Burghart (Brentwood and Ongar).
The handling of the Chris Pincher affair has been the final straw for many.
The region's newest MP, Southend West's Anna Firth, who has been a self described "strong supporter" of the prime minister, has now lost confidence in him too and recent events were now "destroying the public's trust in democracy" she said on Facebook.
Harlow's Robert Halfon slept on it last night and told BBC Essex he woke up "more angry, more upset" before withdrawing support for the PM.
Boris Johnson has told the Liaison Committee "of course" he will be Prime Minister tomorrow. But fewer of his MPs in the East, where he has had strong support, now want him to carry on.