The Stansted Labrador which has befriended Mountfitchet Castle ducklings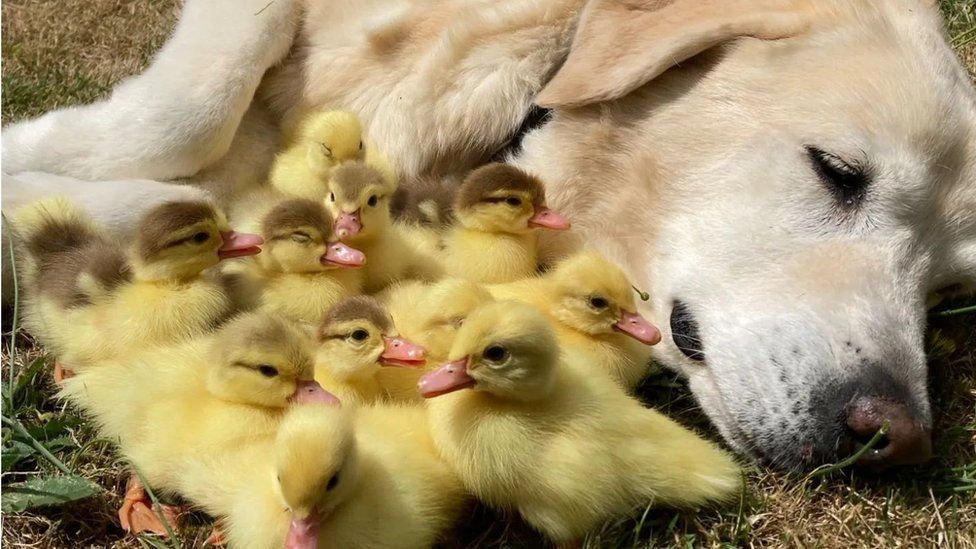 A loveable Labrador called Fred has befriended 15 ducklings after their mother vanished.
Fred, 15, is the resident hound at Mountfitchet Castle in Stansted and has been caring for the feathered friends after their mother, Mary, disappeared.
It is the second time the golden Labrador has become a foster carer after he looked after nine ducklings at the Essex visitor attraction in 2018.
Owner Jeremy Goldsmith said: "He's our very own stay-at-home dad".
The ducklings' mother, Mary, disappeared from her enclosure at the weekend and has not been seen since.
The tourist attraction is hoping the Muscovy duck will return safely but in the meantime golden Labrador Fred has taken over the caring duties.
He has been pictured relaxing with the ducklings.
Mr Goldsmith said: "Fred's a bit more rickety than when he looked after the ducklings last time but he's still got a very nurturing nature and it is wonderful to see.
"I think Fred's benefitting from having a role in life and he loves being part of the family here at the castle."
The whereabouts of mother Mary duck was not known but Mr Goldsmith said there was no evidence of a fox attack.
"She is a good mum so it might be that she returns to the ducklings in the coming days," Mr Goldsmith added.
Related Internet Links
The BBC is not responsible for the content of external sites.