Protest held in Colchester against housing plans for MOD land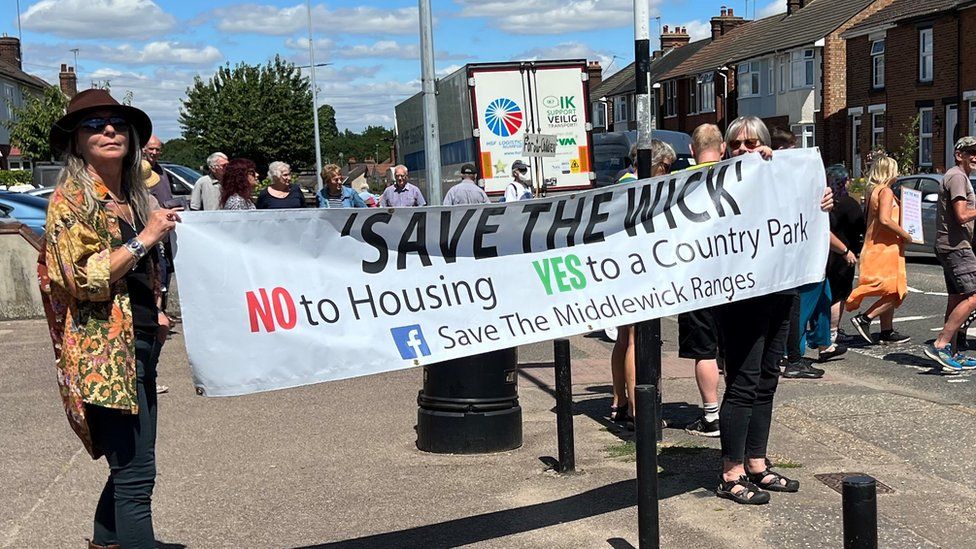 A protest has taken place against plans for up to 1,000 homes on land owned by the Ministry of Defence.
About 40 people repeatedly crossed a busy road to protest against proposals for Middlewick Ranges in Colchester.
The ranges are no longer used for live firing but support significant wildlife and opponents claim the area cannot sustain more housing.
Colchester Borough Council will vote on 4 July on a local plan to say where 14,720 homes will be built by 2033.
The protestors carried placards onto a pedestrian crossing on Old Heath Road for about 17 minutes which they said equated to around one thousand seconds - one second for each home which could be built on the ranges.
The opponents occasionally stepped back from the crossing to allow traffic to pass.
Public footpaths run through Middlewick Ranges, as well as around the perimeter, and are popular with dog walkers.
A final inspectors' report ruled in May the council's local plan for Colchester was legally sound and would be presented ahead of a full council vote.
The plan includes new homes and supporting infrastructure at Middlewick Ranges.
Lindsay Barker, the borough council's strategic director for policy and place, said: "Local Plans are often a long and difficult process, but it is really important to provide a strategy for the growth of Colchester to 2033 and beyond.
"The Local Plan provides a mechanism to plan for the sustainable development of homes, businesses and infrastructure, whilst protecting the environment, Colchester's rich history and heritage and the rural environment and coast beyond."
Related Internet Links
The BBC is not responsible for the content of external sites.