Paris terror attacks: 'I refuse to hate my brother's killers'
By Charlie Jones
BBC News, East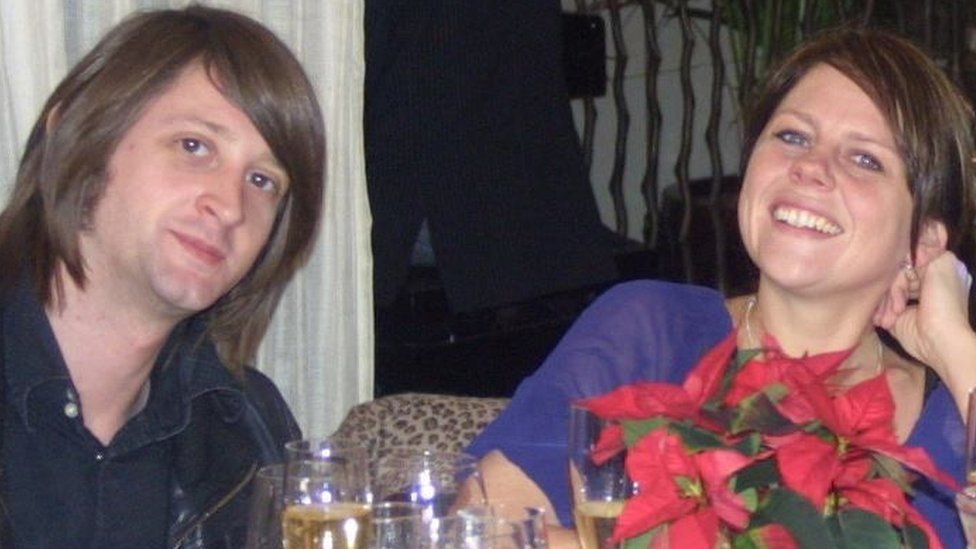 Twenty men have been convicted of killing 130 people in a terror attack in Paris nearly seven years ago. The sister of the only British victim says she refuses to hate them.
She had spent the last 10 months listening to evidence about what happened in Paris on the night of November 13, 2015 - the night when her brother Nick was shot dead.
"It was a very charged atmosphere. The court was absolutely packed. It felt like a very significant moment had been reached," she says from her home in High Wycombe, Buckinghamshire, having just returned from Paris.
It was important to Zoe to be in the same room as her younger brother's killers. She was struck by how similar in age they were to Nick, who was 35 when he died.
"Being there and seeing these guys sitting in the dock, pretty much the same age as my brother, I just felt it was such a waste and the enormity of the tragedy seemed to expand even more," she says.
Nick was a vibrant force, Zoe says, and a funny and quirky child. Growing up in Weeley, Essex, there was a seven-year gap between them but it never seemed to matter.
He was so good at his job as a merchandise manager, for the US rock band Eagles of Death Metal, because he was a people person, she says, and he loved interacting with fans.
Nick was working at a sold-out gig at the Bataclan Theatre in Paris when three gunmen stormed the building and killed him, along with 89 others.
Tributes poured in from music legends including Damon Albarn and Cat Stevens, but also from people who had only met him once while buying merchandise, but he had still left his mark on them, Zoe says.
"That's just the sort of guy he was," she smiles.
It wasn't until last year that Zoe and her parents Sheelagh and Barry started thinking more about his attackers. Their legal team sent through their profiles and they suddenly became people with a story, she says.
"I hadn't paid much attention to them before. It did not serve us to look into it. We were just putting one foot in front of the other," she adds.
Six of the defendants who are missing, presumed dead, were tried in their absence, but she faced 14 of them in a huge Paris courtroom built specifically to accommodate more than 500 people.
"It was extremely human to be in the same room as the perpetrators. We saw these two sides juxtaposed - a barbaric mentality on one side, in the same room as this huge democratic process," Zoe says.
When it was her turn to give evidence, she was determined they would learn that they had not won; Zoe would never subscribe to the legacy they wanted to leave of hate and intolerance.
"We're not at war with you, you're at war with yourselves. Your parents also walk the same path as my parents … I hope you can honestly look inside your heart and say it was worth it," she told them.
On Wednesday night, when it came to the verdicts, she felt anxious. Not about whether justice would be done (she "trusted the process" and knew there was nothing else she could do), but about the trial coming to an end.
"It felt like the end of such a traumatic and harrowing time, especially for the first responders and survivors that were injured.
"It has been like holding a wound open for seven years. Anything that had partially healed had to be reopened."
Reflecting on the experience, she describes it as surreal and intense. And it feels even more strange to be home and isolated from the support network she had in Paris, she says.
But she goes there twice a year to see the friends she has made since the attack - on the anniversary every November and on Nick's birthday every February.
"We drink champagne at the Bataclan café and toast Nick and the others who died. The crowd were young, music-loving people with a zest for life. We always want to carry that spark of them with us," she says.
The trial hasn't given her closure, she says, but she was never searching for it in the first place.
"We will never close the door on what happened to Nick because it is part of our family's story," she says.
"I can't say I forgive them yet, that can be conflated with saying you condone what they did. But we have to move forwards without hate.
"This is not the end of a book or even a chapter, but it is the turning of a page and we are moving forwards with love."
She believes the only way we can learn from the attackers is to make sure we "never join them where they are at".
"I said in my testimony, you can't neutralise poison with more poison. If we don't learn anything from this it has been a huge and tragic waste."
Now she and her parents are throwing their energy into The Nick Alexander Music Trust, which helps disadvantaged community groups across the UK come together through music.
"Music can help prevent the social isolation and intolerance that leads to these things in the first place," she says.
They are in the early stages of organising a big sponsored event in the UK and Paris next year and she is excited for the future.
"Nick's killers wanted to leave us with fear and hatred and darkness and we have turned that around," she says.
"I wanted to say that to them face-to-face. It was a really powerful opportunity to have been given and I am so grateful for it."