Thousands of public sculptures put online for first time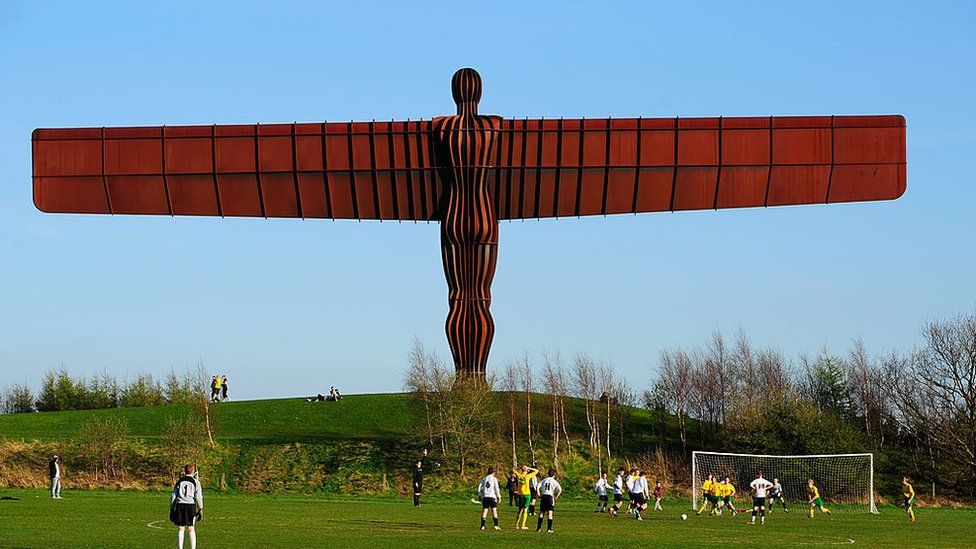 More than 13,500 public sculptures have been photographed and put online for the first time.
Art education charity Art UK took 140,000 photographs of works by artists such as Antony Gormley, Henry Moore and Barbara Hepworth.
The collection was unveiled at the Water Gardens in Harlow, Essex, which is home to Eve, an 1882 bronze by Auguste Rodin.
Andrew Ellis, director of Art UK, said: "The UK has a rich and enviable collection of public sculptures."
The five-year project features famous figures including Princess Pocahontas, Captain Mainwaring played by Arthur Lowe in sitcom Dad's Army, and The Bee Gees.
Just over 2,600 of the public sculptures depict or commemorate named people with more than 460 of those being of royalty.
Queen Victoria was the monarch with most public monuments and sculptures dedicated to her, with more than 175 statues, fountains, bandstands, clock towers and other artworks erected in her name.
But Art UK found just 17% of the sculptures that depict or commemorate named people were dedicated to women, with 5.5% to both men and women and the rest to men.
Just under 2% of those artworks that depict or commemorate people are of those from ethnically diverse backgrounds, the charity's work found.
As well as sculptures, the collection also includes water troughs, drinking fountains, clock towers, tombstones and obelisks.
Mr Ellis said it was not only significant for the Stoke-on-Trent-based charity but "also for anyone who cares about public art or simply wants to find out more about that sculpture they walk past each day".
The charity said it has almost completed recording all the sculptures of the last 1,000 years inside UK public collections, with 36,000 online.
Related Internet Links
The BBC is not responsible for the content of external sites.