Rail strike: Chelmsford passengers react to second day of action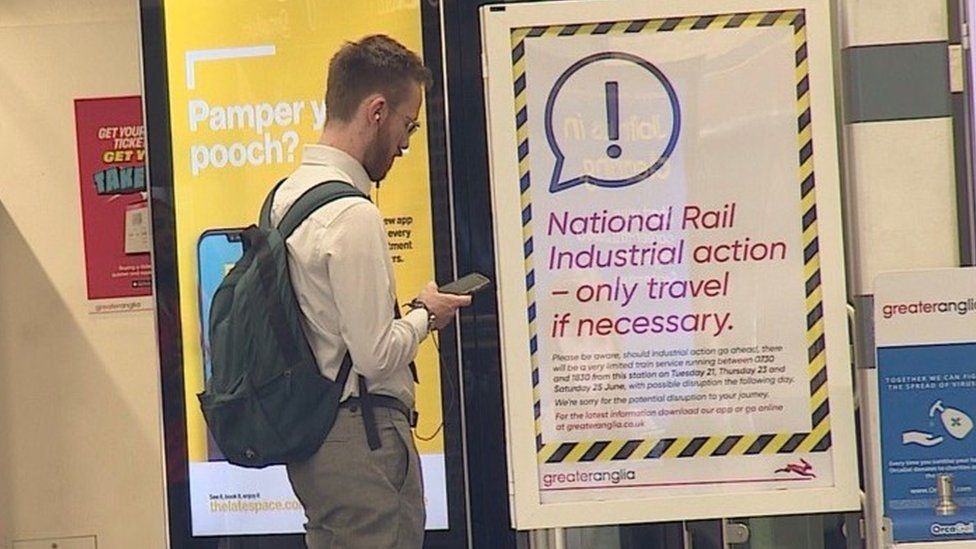 A second day of rail strikes is under way after talks between the RMT union and railway employers broke down. How have passengers at Chelmsford been affected and what do they make of the industrial action?
'The government should be supporting lockdown workers'
Gemma Jones, from Chelmsford, works in property maintenance in Witham and supports the cause of rail workers.
"I back the strikes - I feel they worked through the whole of lockdown and have nothing to show for it," she says.
"It inconveniences me but I fully back it; it doesn't bother me at all.
"The unions are there to protect people, so I am all for it."
Asked who she blames for the industrial action, she says: "The government for not backing people during lockdown.
"I think they should be supporting people who worked through the pandemic."
She also has "supportive" employers and is willing to put up with any disruption "until they get what they want; until they get what they deserve," she adds.
And if it continues for weeks? "So be it."
'I feel they are holding people to ransom'
Insurance worker Michael Poultney stayed at home in Chelmsford on Wednesday, but was braving the journey to London on the second day of the rail strike.
He felt his day would not be disrupted too severely - and there were even some positives.
"It's great, you get a carriage to yourself - you just have to leave a bit earlier, and go in a bit later," he says.
"I can see why people want more money, especially in these times, but I feel they are holding people to ransom.
"They are coming from opposite sides, they need to compromise.
"It's been alright for me, and I can put up with this, for now, but I should imagine for others it's a nightmare.
'I can cope, as I can work from home'
Andrew Ross says his train from Colchester to Chelmsford ran as normal this morning - albeit with fewer passengers.
He works for an offshore power company and has only recently returned to commuting, having worked from home during the pandemic.
"It's been quite nice, because the train is quieter, but I feel for people travelling into London as the trains are running later," he says.
"I can cope, as I can work from home."
"I wouldn't like to put the blame anywhere, but I think everyone deserves an increase an increase in wages - something needs to happen somewhere."
The RMT is calling for a pay rise of at least 7% to offset the cost of living crisis, as inflation hits 9.1% and is forecast to reach 11% in the autumn
Employers have offered a maximum of 3%, on condition that the union accepts new working practices
Rail employers say they have suffered a loss of income, with passenger numbers only at 80% of pre-pandemic levels
The Rail Delivery Group, which represents train operating companies, says it wants to give "a fair deal on pay while taking no more than its fair share from taxpayers", which means modernising the railway to attract passengers back
On Tuesday, Prime Minister Boris Johnson urged the country to "stay the course" and resist high pay rises he says could further fuel inflation
In Essex, Juliette Maxam, of Greater Anglia, says the operator is running more or less the same reduced timetable as on Tuesday, with some additional changes to its Stansted Express service and some services to Cambridge. "Please only travel if it's absolutely necessary and expect disruption... and before you set off, please check for cancellation," she says
'They should really sit down and talk'
Nanny Heather Wood, who works near Oxford Circus, avoided travelling on Tuesday - but says going back to work on Wednesday was "terrible" as everyone had had the same idea.
"I got here at 07:30 BST and couldn't get on the first train - it was packed, and then managed to just squeeze on the next one," she says.
"I do understand why they are striking and I do support it to a certain extent.
"If there were no trains at all my support would go down considerably.
She said she understood and supported the call for a pay rise but also felt many people deserved more money but "don't have the ability to strike".
"I haven't seen that the government being willing to talk, all I've seen is them blaming them [the unions]," she adds.
"They should really sit down and talk with them [union leaders] more."