Basildon: Government to decide on plans for 2,800 homes
By Simon Dedman
BBC News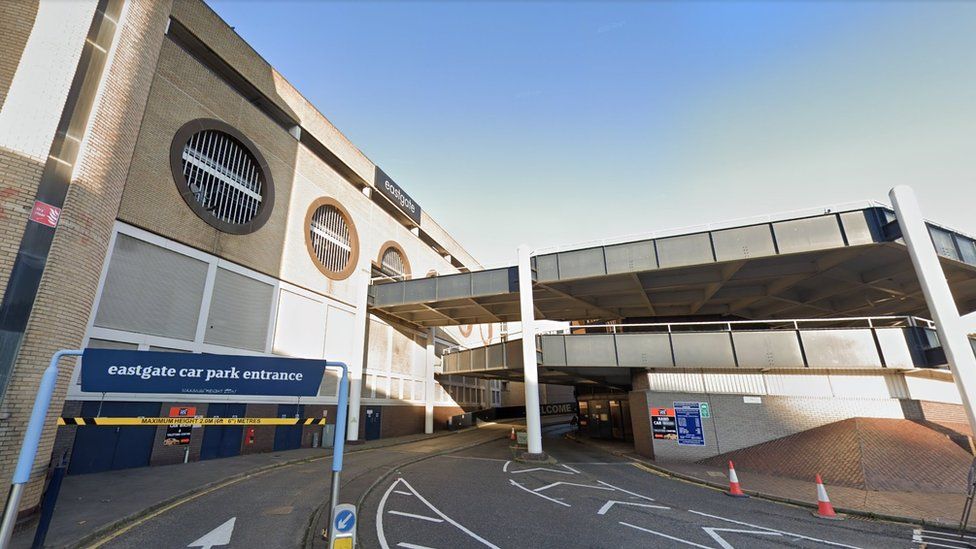 The government will have to decide on a plan for 2,800 homes and new retail and commercial space in an Essex town.
Basildon Council's planning committee voted against the development on the Eastgate Shopping Centre, Southernhay, on Wednesday.
Conservative councillors criticised the plans over the "mass, bulk and density" of the development which would have a detrimental impact on the town centre.
The government's planning inspectorate is set to hear the case in August.
Plans for the part-demolition and redevelopment of the Eastgate Centre were originally passed in April 2021, but not taken forward by the council after a change in administration from Labour and Independents to Conservatives.
Developer InfraRed has since appealed - and the government's planning inspectorate will now decide whether the development can go ahead.
Basildon Council has lost two appeals since December for high rise developments, known as Town and Market Square, which would see new buildings of up to 23 storeys in the town centre.
The empty former M&S building and the largely derelict building in the north of the town square are set to be knocked down and turned into flats.
Conservative councillor, Craig Rimmer, told the planning committee that the number of tower blocks proposed on the Eastgate Centre and Asda Supermarket would "create a town within a town" and would change the "demographics" of Basildon.
He argued that the plans are "very different from what has gone before inspectors before".
Conservative councillor David Dadds, who chaired the meeting, argued that the density of the Eastgate proposals would be "detrimental to our home".
Tory councillors also said the plans lacked affordable housing and called for a 10% target rather than the 5% offered, with Mr Dadds saying "our community requires it".
The council's head of planning, Christine Lyons, said she had "severe concerns" about changing the number of affordable homes without providing evidence.
Labour warned that the planning inspector was likely to grant permission as they had done so on similar developments and Labour and Independent councillors abstained or chose not to vote on the plans.
In March, Basildon Council voted to scrap its Local Plan and start again, after seven years of work by Conservative and Labour-led administrations.
The housing minister warned councillors this year that the government could intervene in Basildon's planning decisions if progress was not made.
Related Internet Links
The BBC is not responsible for the content of external sites.