Ben Raemers: The skateboarding hero who couldn't handle fame
By Charlie Jones
BBC News, East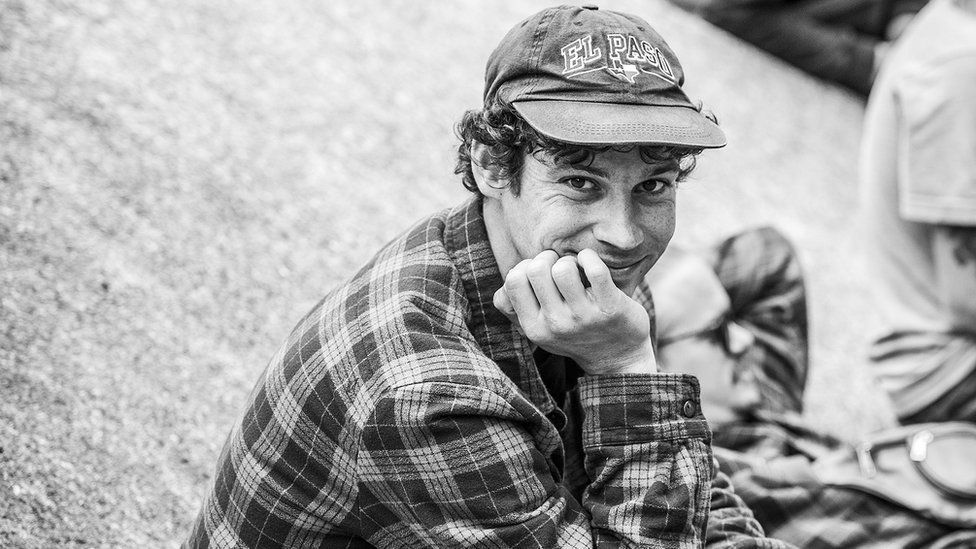 As a little boy growing up in a council flat in a seaside town in Essex, Ben Raemers was looking for a way to escape his difficult childhood.
Aged 10, he discovered skateboarding and was instantly hooked. The family moved to Ipswich and he spent all his time at the skatepark.
After moving to America to pursue his dream, he became one of the best British skateboarders of all time.
But three years ago Ben killed himself, at the age of 28, leaving the skateboarding community asking itself some difficult questions.
Here, in her own words, Ben's sister Lucy talks about his prolific rise and the aftermath of his suicide.
I always say Ben was like a Tasmanian devil as a little boy, growing up in Walton-on-the-Naze. He was a whirlwind. He would come across as a sweet boy to most people but then he'd come home and be tearing the place up.
We had a love/hate relationship and we were either best friends or it was complete debauchery. He used to make me laugh so much. We had two other brothers and it was quite chaotic. Our mum had some struggles and our dad wasn't around, so it wasn't an easy childhood.
Ben's best friend took him to a skatepark in Brightlingsea when he was about 10 years old and he developed a complete obsession with it. He was completely drawn to it. He asked our mum for a skateboard and the minute he picked one up, he never put it down again.
We moved to Ipswich and he spent all his time at the skatepark there and just got better and better.
Skating was something he could throw himself into. Unfortunately, the culture revolved around drink and drugs, and that was also part of it - it was a big escape for him.
'He had an insane natural ability'
Ben moved to America when he was a teenager and was being sponsored by companies like Converse.
He had this insane natural ability and he could just do these incredible tricks without even trying.
He was on the front cover of the most influential skateboarder magazine, Thrasher, and he won this really big competition, the King of the Road contest.
I used to be out with him and people would stop him in the street, but Ben never had an ego. I was just hanging out with my brother, he would never sit there gloating about what he was doing.
It wasn't until he passed away that I realised quite how big he was in the skating world because he never boasted.
'I have to live with the guilt'
Ben had no structure from the minute he left school and was given a lot of money, but was never taught what to do with it.
He turned professional in 2014, which should have been great but I'm not sure he could handle it. He found the attention difficult.
Ben decided to move back to London and his mental health started to deteriorate. He started to say that he was feeling suicidal and he was drinking a lot more, but he would never talk about it when he was sober.
I felt a lot of pressure because I was the closest person to him. I have to live with the guilt of not being able to save him.
He would call me every day and he relied on me. But I've come to realise that there is only so much you can do for someone.
Ben was so deeply shy, he did not want to talk about his struggles. I knew how uncomfortable that conversation would have been for him.
But I should have just really pushed it, I don't think I did enough and that is very difficult for me to live with.
'The skateboarding culture is changing'
Ben died in May 2019 and we held his funeral in Ipswich. It was a harrowing and chaotic day but it was beautiful and amazing. His friends came from around the world and other people came just because they had followed him and his career.
Really quickly after the funeral I decided I wanted to do something and started talking to Ben's friends. We launched a foundation in his name in October, a few months after he died.
It is amazing how many people in the community wanted to be involved.
We go into skateboard shops and speak to different teams about suicide awareness and we've delivered training in America.
In the past, skateboarding has had this culture where people do not talk about mental health but now we are changing that.
Professional skateboarders have started opening up about their mental health issues and that has sparked more conversations.
It's crazy how many people have messaged to say it has helped them start a conversation. We just want them to have an opportunity to talk about it.
'It has been hugely healing for me'
This is my life now and I have dedicated myself to working in mental health. I was a hairdresser before but now I am training as a counsellor.
It has been hugely healing for me. I think if I had lost Ben and that had been it, it would have been so detrimental to my mental health. I thought "I cant let him take his life and then just sweep it under the carpet".
I hope we can remind people that we just need to remember to listen and ask each other "how are you?".
I couldn't save Ben's life but I have hopefully been able to save some others.
If you are affected by issues raised in this article, help and support is available via the BBC Action Line.
Related Internet Links
The BBC is not responsible for the content of external sites.