Archie Battersbee: How did life support battle end up in court?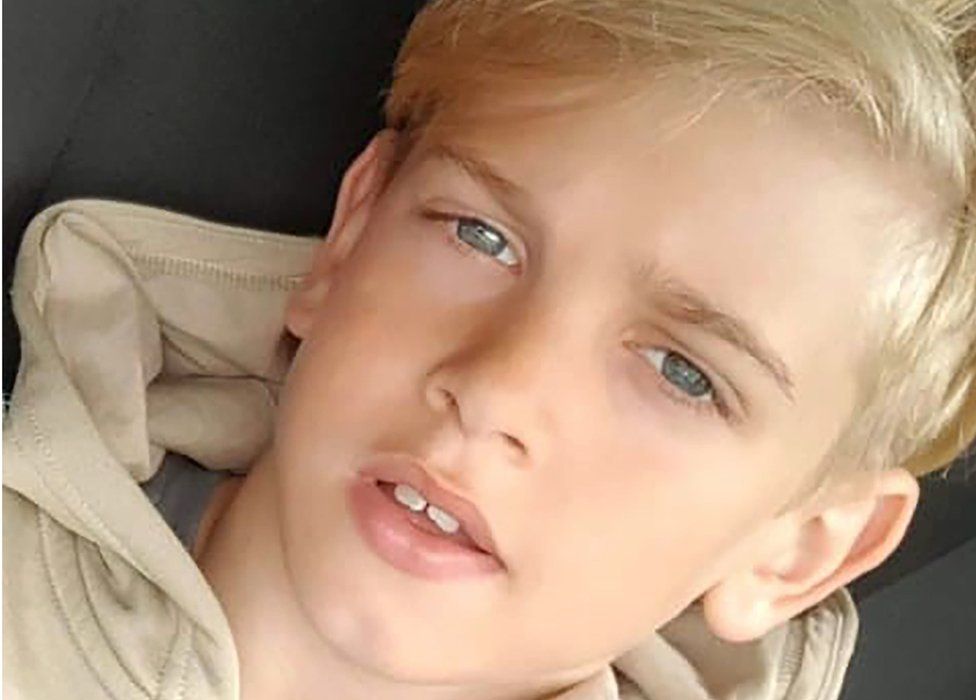 Archie Battersbee, 12, suffered traumatic brain injuries after an incident at home in April and since then doctors and his family have battled in court over his treatment. His family won an appeal about a life-support decision which means the case will be heard again at the High Court. This is how the story has unfolded.
Who is Archie Battersbee?
Archie has been described as a "born fighter" by his mum Hollie Dance.
Before his accident he was an active young boy who took part in mixed martial arts and gymnastics, his family said.
That interest in mixed martial arts also spurred an interest in Christianity two years ago, after he saw other fighters praying before fights, they added.
On 7 April, his mother found him unconscious after an incident at their home in Southend, Essex. She believed he had been taking part in an online challenge.
Why was his case heard at court?
After being transferred to the Royal London Hospital in east London, run by Barts Health NHS Trust, doctors told Archie's family they believed his brain damage was so significant that he may be brain stem dead.
Doctors asked to conduct a brain stem death test, but Archie's family denied consent leading the trust to bring a case at the High Court in London for permission for the test to be carried out.
In subsequent hearings, lawyers representing the trust had asked the judge to decide what moves were in Archie's best interests.
Subsequent hearings have taken place since the tests to determine whether life-support treatment should continue.
What else does Archie's family say?
Archie's parents, Hollie Dance and Paul Battersbee, have argued their son needs more time to heal.
Supported by the Christian Legal Centre campaigning organisation, the family said they had seen signs of life from Archie and that doctors had not listened to their concerns.
Ms Dance has said she believed her son "needs more time" to recover.
Speaking after the High Court hearing last week, Ms Dance said: "His heart is still beating, he has gripped my hand, and as his mother, I know he is still in there."
"Until it's God's way I won't accept he should go. I know of miracles when people have come back from being brain dead."
Doctors treating Archie told the High Court that it was "highly likely" he was "brain stem dead" following scan results and asked the court to consider ordering that his life support should be stopped.
During the final hearing, specialists said tests had shown no "discernible" brain activity and that parts of his brain were showing "significant areas of tissue necrosis".
Lawyers representing the trust had asked Mrs Justice Arbuthnot to decide what next step was in Archie's best interests.
Following the ruling on 13 June, Alistair Chesser, chief medical officer at Barts Health NHS Trust, said their "thoughts and sympathies" were with Archie's family.
In a statement he said the hospital would "provide the best possible care while life support is withdrawn", but that time would be given for the family to appeal before any changes to care were made.
7 April: Archie injured during an incident at home and taken to Southend Hospital
8 April: Archie is transferred to The Royal London Hospital in Whitechapel where he remains in a coma
26 April: The NHS trust that runs the Royal London starts High Court proceedings asking for Archie to undergo brain stem testing
13 May: Mrs Justice Arbuthnot rules brain stem test should be carried out
16 May: Two specialists try to administer brain stem function tests, but they are unable to as Archie did not respond to a peripheral nerve stimulation test, a precursor to the the brain stem test
25 May: A hearing is held to decide if further MRI scans should be conducted. Archie's parents did not consent on the basis that moving Archie could harm him
27 May: The court approves further MRI scans which are carried out on 31 May
6-8 June: A final hearing is held to hear evidence on whether Archie's life-support treatment should continue
13 June: The High Court judge rules that Archie is "dead" based on MRI scan results and that treatment could be withdrawn
20 June: Family ask Court of Appeal to reconsider the case
29 June: Court of Appeal rules a new hearing to determine Archie's best interests should take place
11 July: New hearing scheduled in the High Court