Conversion therapy: 'I thought God hated me because I was gay'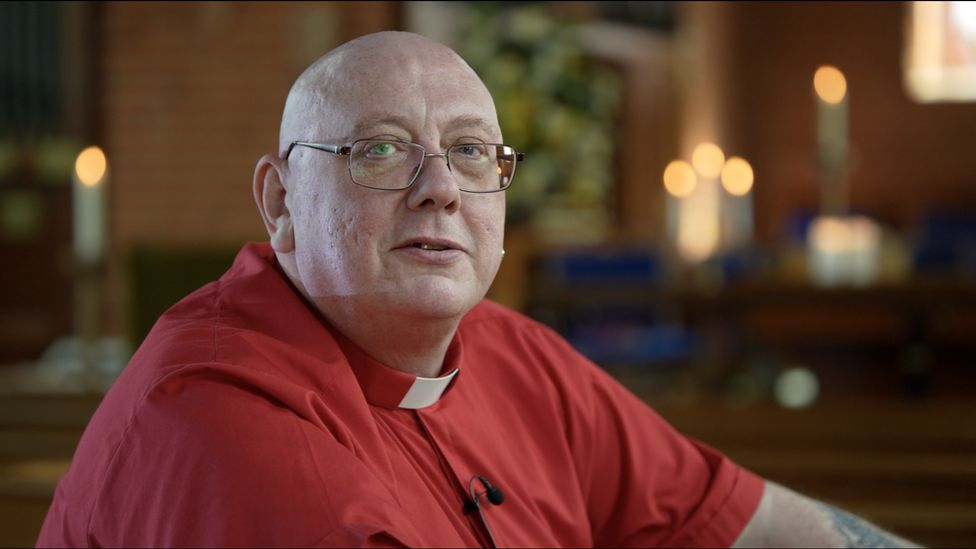 As a young man, Joe Adams approached his Methodist minister and told him he was gay. Rather than being met with support and love, he was told he was "an abomination" and sent for conversion therapy.
For years, he says, he lived as a "shadow" of his real self.
Ordained at Birkenhead in 1999, by the time he came out in his 40s, Mr Adams was a married father-of-four.
He feared he would lose both his family and his job. It did not happen - his family relationships grew stronger and he is now minister at the Wimpole Road Methodist Church in Colchester.
Here, in his own words, the 57-year-old tells of his struggle with sexuality and of the "profound mental health damage" done to him during conversion therapy.
I knew I was different in junior school.
I didn't have many friends growing up partly because I felt so different. I came to faith when I was 18 - it was everything to me, it was a family, friends and a community.
I told the Methodist minister there that I thought I was gay and he told me that "God can't love you, you're an abomination unto God and the only way you can be redeemed is if you are converted and changed to be straight".
That was terrifying because he suggested I needed to leave and I couldn't leave, so I went along with it.
Mr Adams
They knocked me to the floor, they began hitting me, screaming for the devil to be removed from me and I was terrified."
He sent me to a Pentecostal church and told me they were experts in conversion therapy.
I walked up the stairs and there were three men who almost immediately started saying really nasty things.
They knocked me to the floor, they began hitting me, screaming for the devil to be removed from me and I was terrified.
After I can't remember how long, they ran out of steam. They put me on a chair and asked me if it worked, to which I replied "yes" as I wasn't daft and didn't want anymore.
They told me my life would be better now I was straight and I just ran out of the room, to my car and just sat and cried for ages and ages, determined I would never tell anyone again.
When I got back to my Methodist minister, he told me it wasn't over yet, in order for the transformation to be completed, I needed to find a nice woman, settle down, get married, have some children and the "gay would go away".
It was awful, truly awful.
I've only talked about it [the conversion therapy] during the last five years.
It still hurts. It hurts to think that in many ways nothing's changed because if we don't have a ban on trans conversion therapy, and if we allow places of worship to have prayer and ministry that's coercive and manipulative, [then] nothing's changed.
We wouldn't allow this level of bullying in any other sector of our life as a country and I don't really understand why we allow it for this, and the mental health harm it does to people.
For the 30 years after I escaped that room there has been profound mental health damage.
If you or someone you know is struggling with issues raised by this story, find support through BBC Action Line.
I was ordained not long after and I have served in churches for 25 years and seen some amazing things and had some wonderful times, and it didn't matter how many hundreds of people were in the congregation, and how many times I said they were OK and God loved them, when I got home, I knew that God didn't love me.
It was destroying me inside.
It disturbs me that that doesn't matter to people, that people think that's a price worth paying to control other people's lives.
The pain of the blows didn't last that long but the words have stayed with me forever.
I'm amazed I'm still alive because it's been such a difficult time but through it I had the privilege to be in love with my wife and we had some great times, and we have four children who I adore, but deep down it was hard for either of us to be really happy because of the burden of knowing I couldn't be what she needed and she couldn't be what I needed.
It hurts that I lived so long thinking God hated me when I could've been living in the power of the love that I have found in churches. This church is so kind, so loving and I wish I had known this experience all those 30 years.
It hurts that for so long I lived as a shadow.
When I came out in my late 40s, the assumption I made was that I would lose all of my family, that my four children wouldn't want to speak to me again and that I'd lose my job.
None of those things happened.
My relationships with my daughters and son are probably stronger than they've ever been and within the life of the church, the church is way more loving and kind and hopeful and graceful than I think that some people realise.
I've had tremendous support from Anglican and Methodist colleagues.
Most people who know me knows I'm a minister who happens to be gay, I'm just me and if they can cope with me, I think you win people over.
We're on a journey to justice and hope for all people and we haven't got there yet.
I'm able to work in a place like this and be a gay minister and it doesn't really affect me that much. In previous generations people did get beaten up and [experience] all sorts of real problems.
It's important that we mark part of the year with Pride and say "we want to do better and we are proud of who we are".
It is equally important that Pride happens in Parliament, doctor surgeries, police stations, schools.
Things are changing but it's so slow.
I want my three-year-old granddaughter to grow up in a fairer, kinder, more just world where these things don't matter.
Whether you're LGBTQ+ matters as much as if you're Irish or Scottish, you're ginger or black, and the fact that those things still matter today is deeply disturbing.
We're just normal, ordinary people who live quite boring lives with people who we love, the same as straight people do.
The Methodist Church said it was "both heartbreaking and shaming" to hear of the way LGBT+ people have been treated in the past by the Methodist Church and apologised for what has taken place.
"We are a church that affirms and celebrates the participation and ministry of its LGBT+ members," a spokeswoman said.
Representatives also voted in favour of same-sex marriage in Methodist churches and buildings.
"We will strive to be a fully inclusive and supporting church for all members and the communities we work in," the spokeswoman added.
The Church of Pentecost was approached for comment.
Story as told to Zoie O'Brien with additional reporting by Kate Scotter.
Related Internet Links
The BBC is not responsible for the content of external sites.