Ed Sheeran surprises Essex teen by joining Background Bob art project
By Charlie Jones
BBC News, East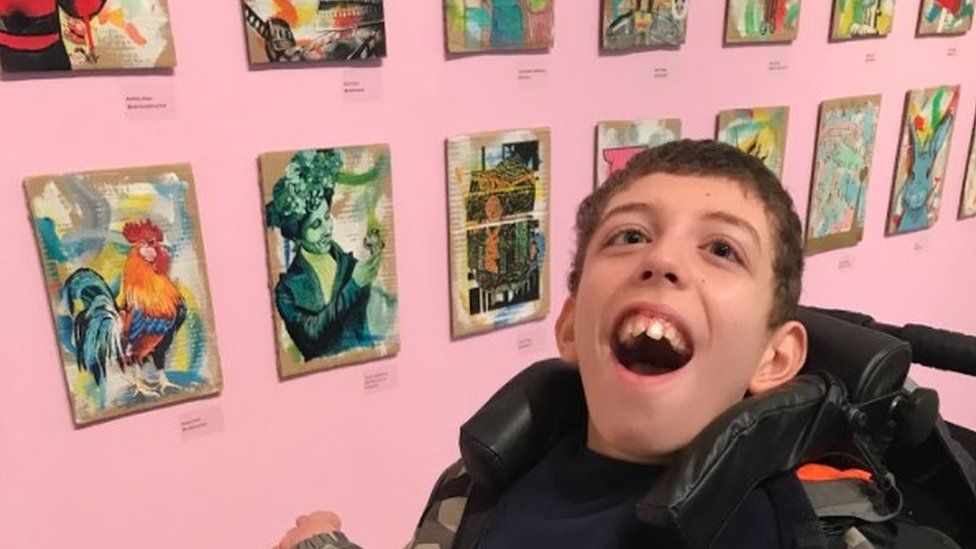 Ed Sheeran has surprised a 13-year-old boy by joining his art project, which has already raised more than £150,000 for charity.
Noah, who has hydrocephalus, epilepsy and cerebral palsy, enjoys painting on cardboard at home in Dedham, Essex.
Artists across the world have helped finish the pieces, which are auctioned for the hospital that cares for him.
In a video message, Sheeran said: "Good luck with everything and I love what you're doing."
We hope everyone enjoyed their long weekend off and got involved in some festivities and celebrations. We've had a whole weekend of celebrating with friends and family and have even more to celebrate tonight. We want to share something very special with you this evening. We were very excited when we received this lovely video message a few days ago from local lad and global superstar……Ed Sheeran 😳😳❤️❤️ My Nan made noises only dogs could hear 😂 Not only are we're over the moon to know that he's heard about our little project but he has very kindly agreed to come and collaborate with me too…. How amazing is that???? Thank you dude, we know you are very busy and it's a real honour to have you involved. 🙏❤️ Big shout out to Mike for helping with this, you star ⭐️

Posted by Nathan Jones on Monday, June 6, 2022
The singer said he had received a background and would paint over it as soon as he could.
Noah's father, Nathan Jones, said the video "came out of the blue" and left him "totally speechless", after a mutual friend alerted Sheeran to the project.
"I was just so excited I had to leave work early so I could share the mind-blowing news with Noah and the rest of the family! Noah smiled instantly when he saw Ed on the screen," Mr Jones said.
"It's not every day you get a video message from a global superstar. We are big fans of Ed, and we know he's a really busy guy, so it is great to know he's even heard about our project let along willing to participate."
Mr Jones kicked off the project during the lockdown in 2020, when he posted on Instagram asking artists to collaborate with his son.
Noah, who goes by the nickname Background Bob, was painting on cardboard to pass the time while he could not attend school.
Mr Jones wanted to raise money for the hospital that has treated Noah since he was born, "as a huge thank you for all the care they have offered to our little superstar, Background Bob".
The family decided to repeat the project and another 250 artists got involved, raising an extra £57,800 to improve Colchester Hospital's neonatal unit.
They decided to run it for a third time, with Sheeran being one of another 250 artists whose work will be auctioned later this year.
Sheeran, who lives near Framlingham in Suffolk, has previously said he spent a lot of time painting after finishing his world tour in 2019. He has since given away some of those works to benefit other charities.
"Ed is one of hundreds of artists, from all genres of the arts, from all over the world that have very kindly given up their time and shown love and support for this year's project," Mr Jones said.
"We consider them all Background Bob family."
Related Internet Links
The BBC is not responsible for the content of external sites.