RideLondon-Essex: Thousands of cyclists take part in charity event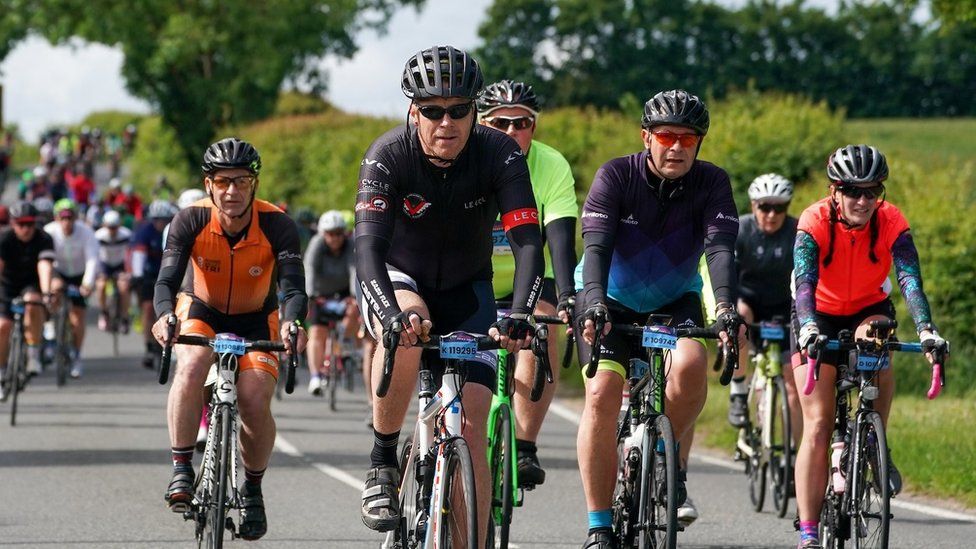 About 25,000 amateur cyclists are taking part in a charity bike ride that loops from central London to Essex.
The RideLondon event got under way from Victoria Embankment, with riders doing the 100-mile (160km) route riding towards Braintree before returning to the capital, finishing at Tower Bridge.
The ride got halted due to a incident at Stebbing Green near the A120.
Event organisers also had to clear a number of tacks that were put on the route at Ongar.
RideLondon said the ride was halted for about 30 minutes after the incident involving a rider who required medical treatment at mile 49.
A spokeswoman said a medical team and an air ambulance attended and the rider was taken to hospital by road.
The roads have been closed for the mass-participation event, including most of the A414, which is due to be shut off for 12 hours.
Some riders are also completing shorter distances of 30 and 60 miles (48 and 97km).
Many businesses have complained about the road closures, including William Drake, who runs a garden centre on the A414 at Writtle.
He said it would "would be one of our busiest days of the year normally" but they stood to "lose thousands of pounds".
It is the first time the event, first held in 2013, has taken place since before the coronavirus pandemic.
The ride used to loop from London to the Surrey Hills.
Related Internet Links
The BBC is not responsible for the content of external sites.