Lawyer highlights risk of Basildon not having local plan
By Simon Dedman and Nic Rigby
BBC Politics East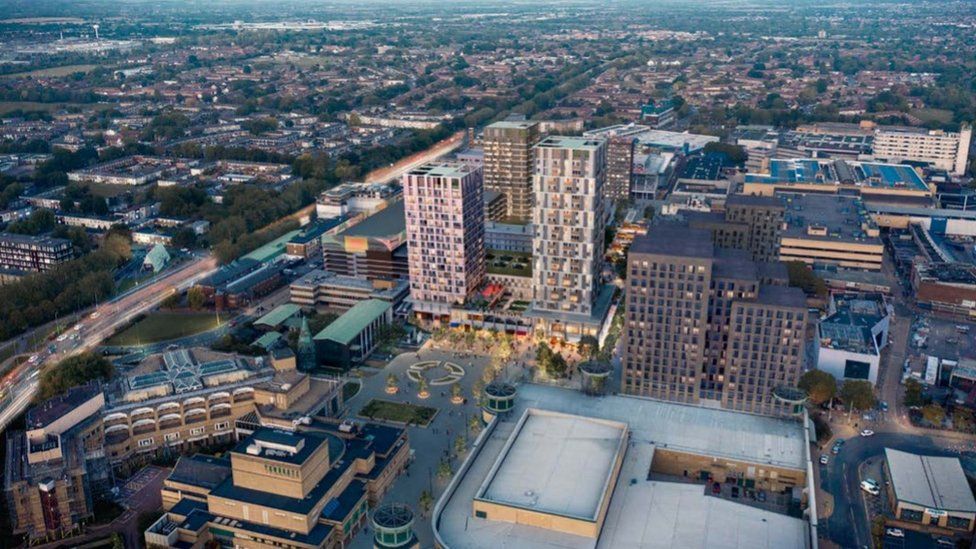 Councils risk losing their powers over housing developments if they fail to produce local plans, a leading barrister has warned.
Lawyer Hashi Mohamed raised the concerns after a local authority in Essex voted to withdraw its local plan.
These plans set out where developments, such as housing or factories, should be build in a district.
Basildon Council told BBC Politics East it was producing a new local plan after voting to withdraw its present one.
At neighbouring Castle Point Borough Council, the new independent leader, Dave Blackwell, has threatened to withdraw its local plan due to concerns over development.
The government has said it wants to see 300,000 homes built across the country every year.
Local authorities have to draw up local plans showing where the homes - which the government says are needed in their area - can be built.
Basildon Council has been told 20,000 homes need to be built in its district by 2033, but the Conservative-run council thinks that figure is too large.
Its leader Andrew Baggott said: "We had a letter in government double-speak saying we haven't set a target; you're not having a target imposed on you.
"So what we are now going to do is progress with a plan that is relevant for the need, as we see it, based on the formula we believe is right."
The lack of an up-to-date local plan can mean developers get approval for their projects anyway.
High rise developments of more than 20 storeys are due to be built in Basildon town centre, despite objections from the Conservative council, after developers appealed to the Planning Inspectorate - a government body - and won.
Richard Clews, senior associate director at Strutt and Parker property consultants, said: "A place like Basildon where you have a very low housing supply - 41% of what it should have been over the last five years - you've got a pipeline of development which is very ambiguous.
"It's the sort of place the government wants you to develop and regenerate town centres. This is exactly the location where you'd expect the inspector to be favourable to what is being proposed."
'Influence over development'
Mr Mohamed, a planning barrister who has worked for councils and developers, said: "By withdrawing their local plan Basildon might think that they are regaining control but actually, I promise you, the opposite is the truth.
"So what will inevitably happen is the government will intervene, you will go into special measures as a local authority and the Planning Inspectorate will start making decisions about where housing will go with decisions effectively taken out of your control."
Graham Stallwood, director of operations for the Planning Inspectorate, said the local plan was the "way that communities get to influence and guide development in their areas".
He said without a local plan a community does not have the "same strength or power in the decision-making".
Politics East airs on BBC One in the East on Sunday, 29 May at 10:00 BST and can be viewed on the BBC iPlayer afterwards.
Related Internet Links
The BBC is not responsible for the content of external sites.