Essex boxer 'thankful' to escape life of drug dealing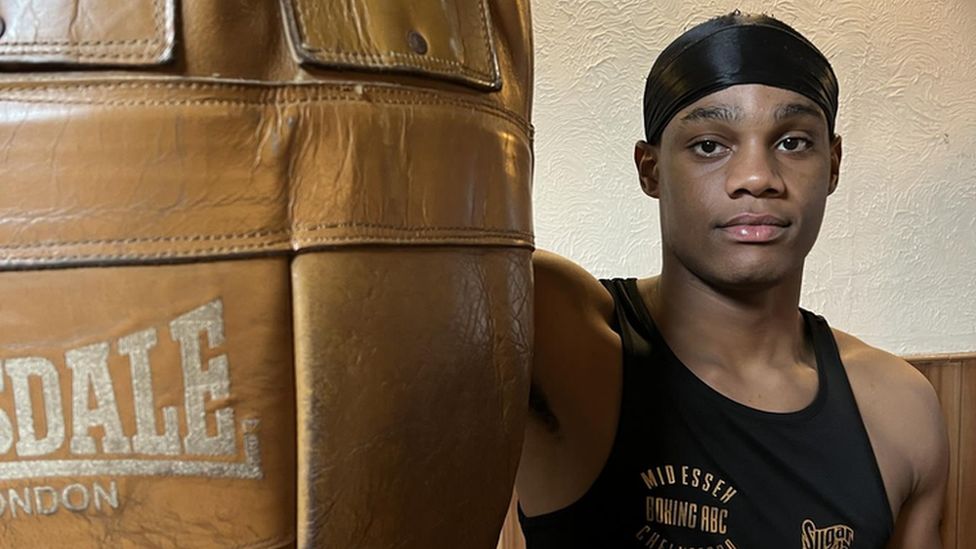 A former county lines drug dealer said he was "thankful" he was able to escape a life of crime and pursue a career in boxing.
Manny Gullam, 18, from Essex, said he was coerced into transporting Class A drugs when he was 15-years-old.
With the help of his mother and police, Manny was able to leave the gang and has since won two Eastern region titles and qualified for the national finals.
"I couldn't understand why my mum was trying to get me in trouble," he said.
"But now I look back at it, she was actually helping me and I'm thankful for that."
He said his role in moving and selling drugs sometimes took him as far as Brighton.
Manny's mother, Faridah Gullam, contacted Essex Police when she noticed a difference in her son as she was determined to get Manny out of the situation he had found himself in.
He was eventually given a tag which meant the gang no longer pursued him as the tag would give away their location.
"I was not giving up," the mother-of-four said.
"I was not scared about any gang. I was like 'this is my son and I'm going to take him out from you guys, I'm going to fight for it' and I did and I'm glad."
Manny said the gang members "became mentors to me in the worst way possible".
"They were telling me all this good stuff that would happen to me once I started helping them," he said.
"But really and truly, they were just selling me dreams."
PC Ryan McNamara said there was a time he thought "we might have crossed the point of no return" and that Manny would not engage with officers.
"We had to establish trust with him," he said.
"That was the biggest and hardest part.
"I had a few man-to-man chats with Manny about how the path he was going down would affect him and his family."
Chris O'Connor, of Mid Essex Boxing Club, said: "As long as he dedicates himself the way he does at the minute, there's not stopping him really."
Related Internet Links
The BBC is not responsible for the content of external sites.