Eurovision 2022: 'Sam Ryder is a local lad doing good'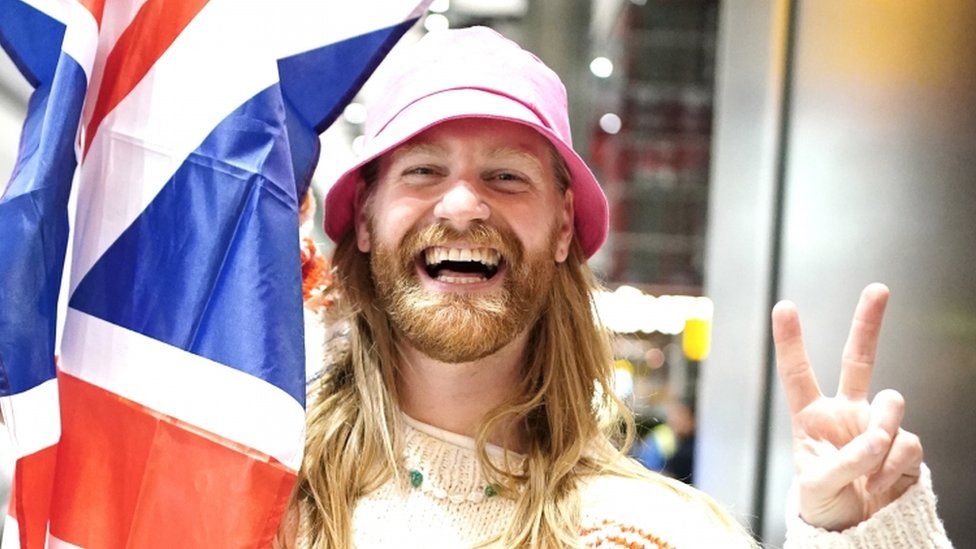 Sam Ryder says he has been "swept up in the joy that is Eurovision" after his performance of Space Man saw the UK finish second behind Ukraine, its highest-placed finish since 1998. What has been the reaction to the former construction worker's exploits in his hometown of Maldon, Essex?
'It's such a mood lift for the town'
As the owner of Talking Flowers, Jaymey McIvor, 23, Saturdays are his shop's busiest day.
Despite being "very, very tired", he says he "of course stayed up to watch Eurovision" and describes Ryder's performance as "incredible".
"For someone from Maldon to be so successful on the European stage is just wonderful, it's such a mood lift for the town," he says.
"Everyone was talking about it on the lead up so I'm sure that everyone is going to be coming in and talking about it.
"Maldon is a very tight community, we do support our own, so I think it's really evident from the social media support that he's had that word is definitely getting out that the boy from Maldon has done well."
Jaymey says he hopes Ryder goes on to have a "very successful career" in music.
"He is clearly very, very talented," he says.
"He's got such a good vibe, such a wonderful energy.
"There are plenty of young musicians in this country that are looking at Sam Ryder and thinking 'You know what? I reckon I could do that' and they're probably feeling very inspired this morning."
'It's just something that we needed'
Kay Ball says she thinks Ryder "has done fantastic".
"I think that circumstances being different he may have won but I think to get as far as we did was great," she says.
"[Ryder is] outgoing, he's extremely talented, he's something different and I think it's just something that we wanted and needed at this time really."
Maldon: Home of salt, a mud race... and a Eurovision runner-up
Home to about 14,000 people, Maldon is an ancient town dating back to at least 913 AD
In the 10th Century it was raided by the Vikings in the Battle of Maldon
Hundreds of hardy competitors battle their way across a muddy riverbed to raise money for charity each year in the Maldon mud race
It is the home of the world-famous Maldon sea salt
The result was "absolutely brilliant," says Sandra Holmes.
"He seemed a really happy chap and he seemed to really enjoy what he was doing," she says.
"I think he would have come first if it wasn't for the circumstances of what's going on in the world but it's fantastic."
She added that there is "absolutely" some local pride in the story of a "local lad doing good".
"That's what we like to see," she says.