Southend Pier train door failure leaves passengers trapped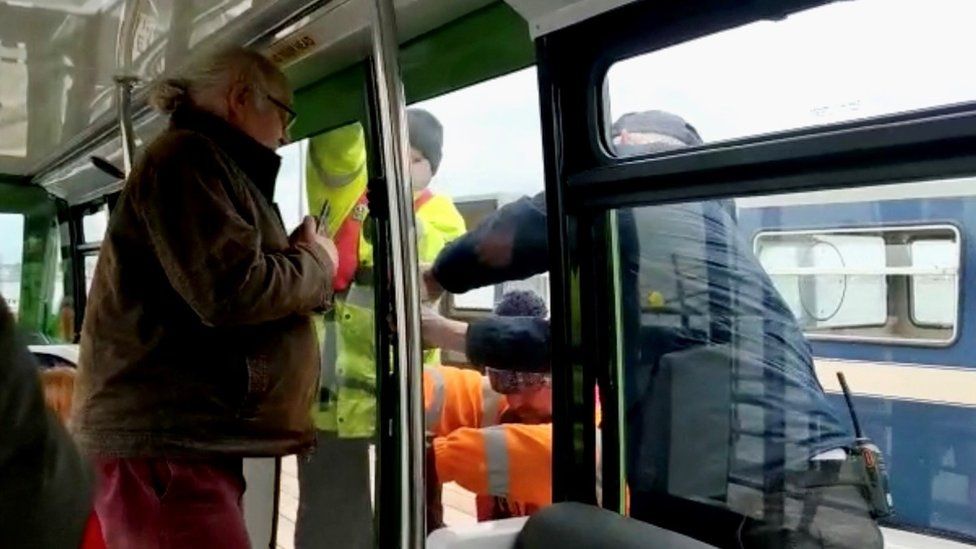 People were trapped inside a new pier train named after Sir David Amess when the doors failed to open.
Passengers and onlookers had to work together to prise open the doors of a carriage when the train reached the end of Southend pier on Monday.
It was one of two "state-of-the-art" eco-friendly vehicles installed as part of a £3.2m pier redevelopment project.
Southend City Council said it was "taking the appropriate steps" to ensure it would not happen again.
It said it was just one set of doors on the first carriage that would not open and the passengers were only on board for an extra few minutes.
Southend Pier Railway is a 3ft (914 mm) narrow gauge railway that runs along most of the 1.34-mile (2.16km) length of the world's longest pleasure pier.
Passenger Peter Grubb, said the doors would not open despite the efforts of engineering staff working on the pier and the driver.
Someone pressed the emergency button inside but nothing happened, he said.
"We were entombed," Mr Grubb said.
"People on the outside helped leverage it open eventually with their fingers and we tried from the inside and we eventually got it open.
"The trains are comfortable and you can even charge your phone, but unfortunately it didn't want to let us off."
The council said the train was still operational.
Director of culture and tourism, Scott Dolling, said: "We are aware of an issue that has occurred with the new pier train where the doors have not opened as planned.
"We have been working with engineers... on this issue and we are taking the appropriate steps to ensure this issue is avoided going forward.
"We apologise for any distress caused by this incident, and would like to reassure residents and visitors that the trains are safe to use.
"Customers of the pier train are encouraged to report any issues or concerns to pier staff to help us monitor and improve the performance of the train."
Related Internet Links
The BBC is not responsible for the content of external sites.