Tokyo Paralympics: Peasgood 'overwhelmed' on return to Essex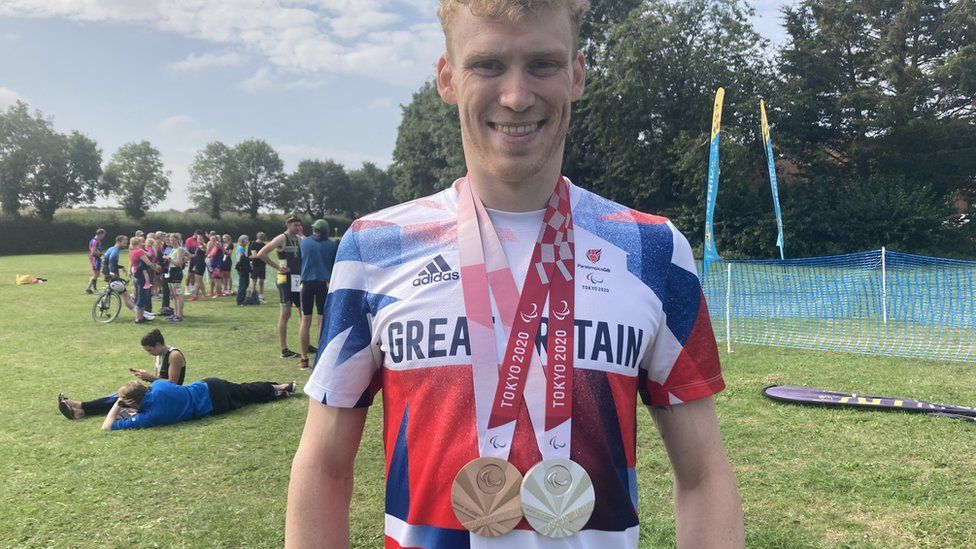 Paralympic double-medallist George Peasgood has said he was "overwhelmed" on his return to the UK from Japan.
Peasgood, 25, from Saffron Walden, Essex, has one leg shorter than the other, won silver in the paratriathlon and bronze in road cycling at the Tokyo 2020 Paralympics.
On Sunday, he returned to his first triathlon club, WaldenTRI, to support competitors at the a triathlon event.
"I'm pretty overwhelmed by everything," he said.
Arriving at the club less than 24 hours after returning from Japan, he said he was "a little bit tired" but "not too bad".
One triathlon participant at the club said he had shown "true sportsmanship" to turn up to their event and it was "really inspiring" to see him.
Peasgood competes in a category for people with impairments below the elbow or knee.
After injuring his left leg/ankle in an accident when he was two years old, he had several reconstructive surgeries during his childhood and originally used swimming and cycling for rehabilitation.
His left leg is 2cm longer than his right leg and his left foot is a size eight, while his right foot is a size 12.
He began triathlon training in 2009 at the Saffron Walden club, after his family began taking part in the event, and attended a paratriathlon talent identification day in November 2011 in Loughborough before joining the national set-up.
He competed at the Rio 2016 Paralympic Games, where he came seventh in the triathlon.
Related Internet Links
The BBC is not responsible for the content of external sites.