Maldon councillors accused of Pride flag 'homophobia'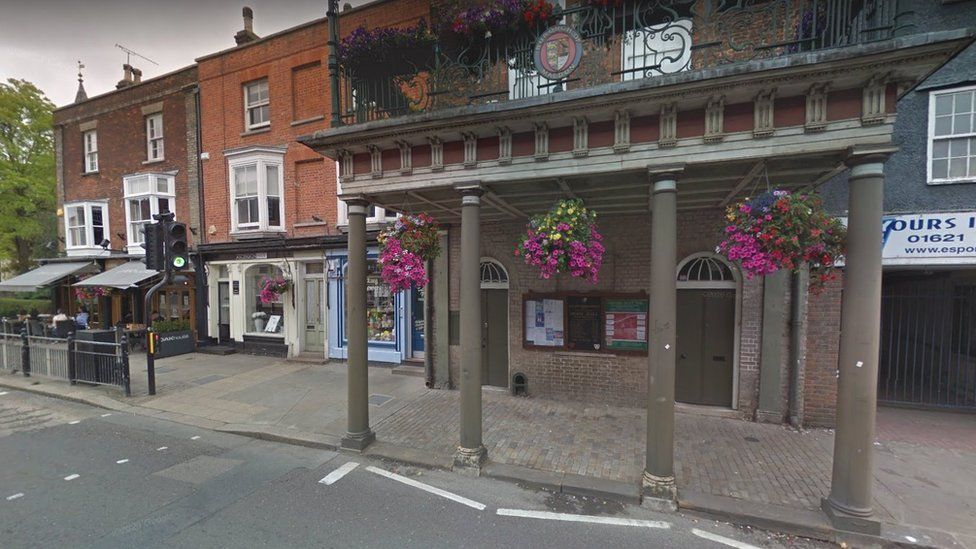 Businesses have accused councillors of making "homophobic" remarks relating to the Pride flag.
The Reverend Tony Shrimpton reportedly made comments about not agreeing with same sex marriage during a Maldon Town Council discussion about buying an LGBTQ+ flag for the Essex town.
In an open letter, businesses said they were "absolutely shocked".
Mr Shrimpton said he "abided by the Bible that which clearly says marriage is between a man and a woman".
In the letter addressed to Maldon town councillors, 26 businesses said they were "completely and utterly dismayed and disappointed" by comments made by Mr Shrimpton, an independent, and others at a meeting on Monday.
The business leaders quoted an article published in Maldon Nub News, in which the town council voted to purchase a Pride flag to be flown at Moot Hall in the town, which is used for a number of weddings and ceremonies.
However, they voted against flying the flag during weddings at the venue.
Mr Shrimpton reportedly said he was happy for the flag to be flown during Pride week, but added: "I'm not very keen on calling same-sex weddings weddings.
"When you're talking about same-sex weddings, you're not talking about weddings."
In their letter, business leaders quoted other council members as saying "flying a flag sets a precedent," and "why aren't we flying flags for other people?".
They wrote: "It's 2021 and we were absolutely shocked to see the blatant homophobic and outdated comments made by Councillor Shrimpton and others in the 16th August council meeting about purchasing the LGBTQ+ Pride flag."
The views expressed did not "represent Maldon as a community as a whole", they said.
We are aware of comments made at a recent Maldon Town Council meeting about the #Pride flag.

Maldon District Council is proud to support pride and the LGBTQ+ community including flying the flags during Pride and Transgender Awareness Day each year. #loveislove 🏳️‍🌈 pic.twitter.com/dkbBs4rC94

— Maldon District Council (@MaldonDC) August 18, 2021
The district council tweeted to say it was aware of comments made at the meeting and that it was "proud to support Pride".
Mr Shrimpton told the BBC: "I'm a believer in the traditional marriage between a man and a woman.
"There should be a word that replaces the meaning of same-sex marriage. It would be more comfortable with me if there was a word for it.
"I supported the Pride flag flying during Pride week but I abide by the bible which clearly says marriage is between a man and a woman."
Related Internet Links
The BBC is not responsible for the content of external sites.