Clacton-on-Sea: Memories wanted to celebrate resort's 150 years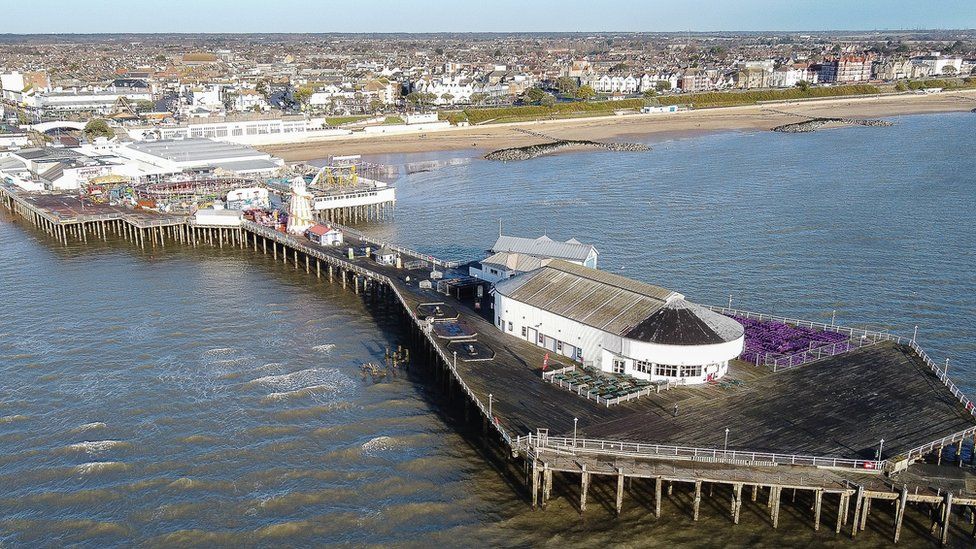 People who live and have holidayed at a seaside resort are being asked to share their memories to mark its anniversary.
Clacton-on-Sea, Essex, is celebrating 150 years this year and a series of events are being held.
Those behind the Clacton 150 project want to hear people's "personal stories", from attending the air show to eating ice creams on the beach.
The year 1871 is seen as the town's founding year as that was when the pier and Royal Hotel were built.
Alex Porter, Tendring District Council's cabinet member for leisure and tourism, said: "Whether it's happy memories of going to Butlins, ice creams on the beach, watching a show on the pier or going on the rides on the pavilion - maybe the first ever Clacton Airshow - we want to hear your stories.
"Your memories don't have to go back 150 years, we're looking to chart the town's history since 1871 so anything from then to more modern times is welcomed."
Entrepreneur Peter Bruff wanted to develop Clacton with the "sole intent of it being a seaside resort"
He got investment from the Woolwich Steam Packet company, which did passenger trips from London
The pier was Clacton's first building - much smaller than today - it welcomed ship passengers from July 1871
The Royal Hotel opened in 1872
After World War One the pier was bought by Ernest Kingsman who spent vast sums on it - it had four theatres and a rollercoaster
The opening of Clacton Butlins in 1938 coincided with paid holiday legislation
In the 1930s Clacton was one of the top resorts in the country
Source: Norman Jacobs, Chairman of Clacton and District Local History Society
Tendring District Council said information, pictures and videos, provided by members of the public would be used as part of a heritage trail around town, and could also form part of listening benches or other exhibitions.
Related Internet Links
The BBC is not responsible for the content of external sites.