Walton-on-the-Naze: 'People are almost panic buying beach huts'
By Charlie Jones
BBC News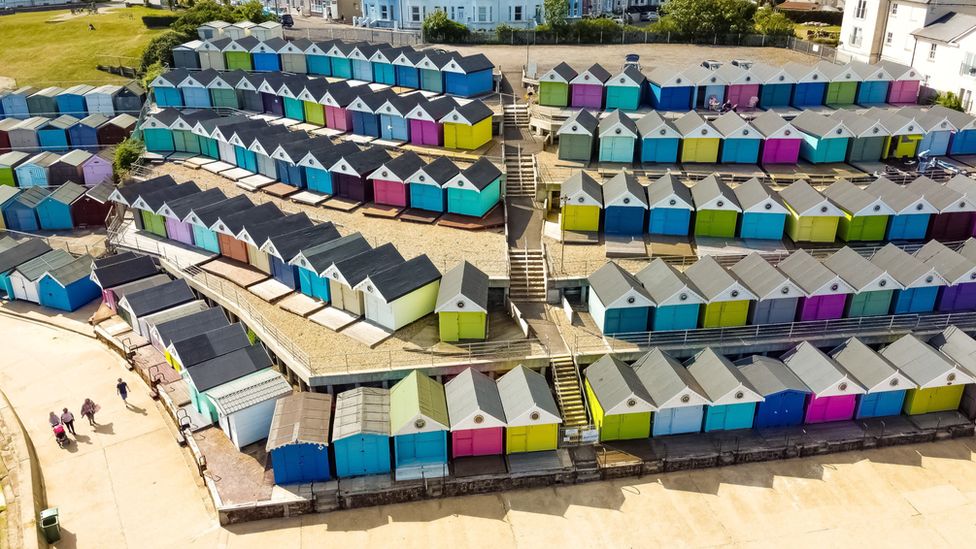 Beach huts are more popular than ever, with everyone staying closer to home due to Covid restrictions. The BBC went to the seaside town of Walton-on-the-Naze in Essex, which has more than 1,000 huts, to find out what's so special about these sheds by the sea.
'I forget my worries and relax'
Vicky Gunn, 42, had a busy and stressful life as an accountant when she bought a beach hut in Walton-on-the-Naze in 2014.
She wanted to spend more time at the beach with her dog Millie, but also realised it could be a good business opportunity and started hiring it out.
Seven years on, she rents out eight huts, having left her job to focus on her business, Millie's Beach Huts.
Vicky owns two of the huts and manages the other six for different owners, sorting out the logistics, styling and marketing.
Demand is higher than ever due to the pandemic, she says, and dates - they are rented out by the day - are being snapped up as soon as she releases them.
"All of our huts sold out in record time this year and we're even busy mid-week at the moment, which is our off-peak time," she says.
Her business has also been boosted by the world of celebrity. Influencer Sophie Hinchcliffe, who goes by the name Mrs Hinch on Instagram, booked a day in her Minnie Mouse themed hut for £50 last September.
She posted about it to her 4.1m followers, generating a lot of new bookings for Vicky and 70% of her rentals this year are from new customers.
It was turned into a retro 1950's diner and is now her most popular rental. She recently had it re-valued at around £40,000.
Vicky used to live nearby in Essex but has since moved more than 500 miles away to Carnoustie in north east Scotland, so she relies on a team of builders and cleaners.
She says she was in danger of not being able to enjoy the huts herself, but has now booked some time to spend there later this year.
"The area really comes alive in the summer, but I like it when it's quiet and I can just come down with Millie and enjoy the peace, forget about any worries and relax," she says.
'It's our first time hiring a beach hut'
Charlotte Hubbard, 35, from Halstead, Essex decided to hire a beach hut for the day to celebrate her Mum's 70th birthday.
She chose Vicky's hut Hope, which also had a makeover for the TV show, though she later redesigned it with a rainbow theme.
"It's our first time hiring a beach hut and we're having a lovely day. It's a nice, safe way to spend time together. We're outside and we're in our bubble, enjoying the beach," Charlotte says.
The family normally goes on holiday in France where they own a house but have not been able to go since last January, so they have booked several days in various huts instead.
Charlotte had heart surgery a few years ago and, coupled with the pandemic, it has made her reassess how she spends her spare time.
"It's really important to us to be together and celebrate things. My parents are such a great support to me and I just want us to have these special times with my daughter Lola."
The view from a local estate agent
The average beach hut in England is worth £40,000, which is a rise of 51% in the last two years, according to the property website Rightmove.
John Fenton, from the estate agents Sheens in Frinton-on-Sea, a resort next to Walton-on-the-Naze, has a waiting list of people wanting to buy one.
He recently sold two huts in the area for £60,000 within 24 hours, which he says is double the price from a year ago.
"People are moving to Essex from other areas and bringing money with them. They want a beach hut to suit their new lifestyle here.
"This is a lovely area of the country, and these people can't go abroad at the moment, so they are making the most of it."
He says local people are getting tempted to sell their huts because the prices have shot up, and he is potentially listing one for between £65,000 and £70,000 in the next few weeks.
'We'd never sell our family beach hut'
Lauren Price, from Basildon, was nine years old when her parents bought a beach hut in Walton-on-the Naze for £800.
"Long before it was trendy," she says.
She knows it is worth thousands more now, 22 years later, but says she would never part with it.
"My parents passed it on to myself and my brother a few years ago and it's so important to us as a family, we have so many memories of special times here and we still use it all the time," she says.
Most of the huts in the town are on land owned by Tendring District Council. But Lauren's is on private land, about a mile away from Walton Pier, in a much quieter area near a nature reserve.
Lauren and her neighbours are not permitted to rent the huts out, which she prefers as it has created a "real community".
She has deliberately kept her hut traditional and simple, with a small kitchen and a bed but no electricity, providing an escape from her modern life.
"All the huts here have been owned by the same families for years. Every one is unique and we are even allowed to sleep in them, so it is like a proper holiday when we come here," she says.
At the other end of the same beach lies hut number 345, which is owned by 62-year-old Graham Watts and his sister, who have had it in their family since he was six months old.
One of his earliest memories is being given a bath in a small tub in the hut when he was three or four. He recalls his seventh birthday party there and learning to swim in the sea.
"I've never known life without the beach hut and have spent nearly every summer of my life there," he says. "My Grandad, who bought it for about £5, would give us 12 old pennies and we would walk to the pier and play on the penny arcade.
"We all used to squeeze in to have dinner on a Sunday afternoon. It means everything to me."
The father-of-two grew up in Colchester, which is about half an hour from the hut, but later moved five minutes away, so he could be closer.
His five-year-old grandson Regan loves hunting for shark's teeth on the beach and the family has a prized collection of 150 in a pot in the hut. He hopes to keep the hut in his family for generations to come.
"It doesn't have to be sunny. I come here in all weathers and make cups of tea, buy some fish and chips, sit and watch the world go by. It is different every single day."
'It is essentially a glorified shed'
Back closer to the pier, Melanie Whitehead, chairperson of the Beach Hut Owners Association of Walton, owns hut number 70, which is more than 100 years old.
Her grandparents used to rent a hut in the town after the Second World War.
You might also be interested in:
It costs £5 a year to be a member of the association, which patrols the huts every day to keep them secure.
Everyone thought she was "crazy" after she bought hers in 2008 for £6,000, when her daughter was five years old.
"I was seen as being this mad woman who paid over the odds. At the time, it was quite difficult to sell them, not many people wanted one.
"Now people are almost panic buying them and in the last two weeks alone they have jumped by several thousand pounds.
"The more expensive they get, the more people seem to want them. Mine is now worth about £30,000 and it's a lot of money for what is essentially a glorified shed."
Her daughter is now 18 but still uses the hut to read and take a nap. Her husband enjoys swimming in the sea while Melanie's favourite thing to do is to crochet while enjoying a cup of tea, listening to the sea.
"When you think about it, it's a very strange thing. I just love being able to potter around and I like being connected with others and hearing people enjoying themselves.
"During the pandemic, it has been the only place where it feels normal and it has been a total getaway for us."
Melanie does have concerns about how busy it has become. She worries local people are being outpriced and will never be able to afford one, but she does see the benefits of some of the changes.
"People who hire a hut for the day come here and spend money in the local economy, where as we tend to bring everything with us.
"The rental huts are always very well maintained, compared to some family huts which can get a bit scruffy, and it is really nice to see them being used so much rather than with the shutters up.
"There is still a lovely family feel here in Walton and it's such a beautiful place. We can't really moan."
Related Internet Links
The BBC is not responsible for the content of external sites.