Chelmsford student overwhelmed by period pad sewing helpers
By Alex Pope
BBC News, East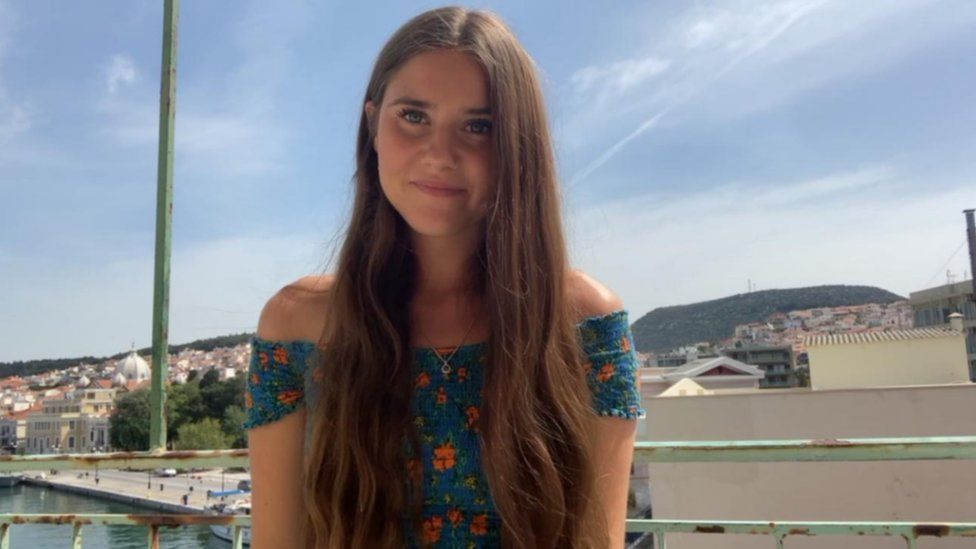 A student has been left "overwhelmed" after the number of volunteers making reusable sanitary products increased by 550 in three months.
Ella Lambert, 20, from Chelmsford, started The Pachamama Project in March and launched her sanitary product - Pacha Pads - in August.
She said she had 150 volunteers in January but now has 700 worldwide.
The group make fabric period products for refugees in the UK, Italy, Greece, Lebanon and the United States.
Miss Lambert, a University of Bristol languages student, set up the not-for-profit group with her university friend, Oliwia Geisler.
When word spread about the group, who make items including cloth pads and bags, "things went crazy", Miss Lambert said.
They were already distributing pads to refugees in Lebanon and Greece, "it then became an international organisation overnight", she said.
"We have ambassadors in Italy, a distribution arm in America and two more distribution centres in Lebanon."
New volunteer Ruth Smith, from Chelmsford, "learnt a new skill" as she wanted to help but had never sewn before.
"Whilst most women living in the UK are fortunate to have access to clean sanitary protection, this is something so many women around the world do not have," she said.
"We are able to make a tangible difference to allow other women to help maintain cleanliness and dignity in such difficult circumstances."
When Susan Phoenix, from Bolsover, Derbyshire, read about the project she "joined immediately".
"I've been sewing since I was eight-years-old, from doll's dresses to designer dresses, so I thought I would be able to help," she said.
"Period poverty is a huge problem and I am pleased to be able to make my small contribution."
Miss Lambert, who is on her gap year, is in Greece volunteering with The Azadi Project to see for herself where the pads are going. She hopes to make the group a charity in the near future.
"I'm overwhelmed, but in the best way possible," she said.
"I thought we would make a few pads and send them out but never in a million years did I think we would have 700 volunteers.
"They have made 11,500 pads and that is enough to take 3,000 women out of period poverty."
Related Internet Links
The BBC is not responsible for the content of external sites.