Essex lorry deaths: Gazmir Nuzi sentenced over people-smuggling ring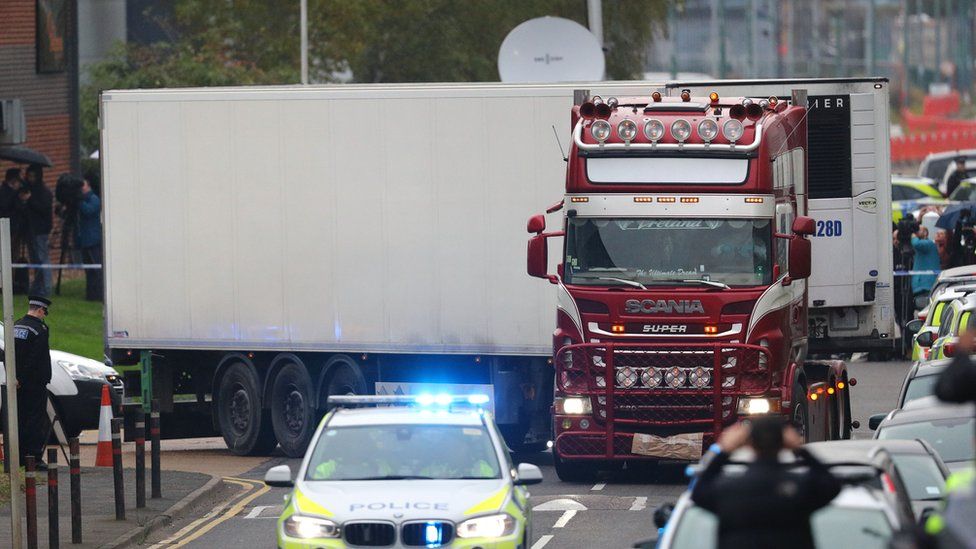 A man who became embroiled in a people-smuggling ring that resulted in the deaths of 39 migrants in a lorry container has been sentenced.
The Vietnamese nationals, aged 15 to 44, suffocated in a sealed container en route from Zeebrugge in Belgium to Purfleet in Essex in October 2019.
At the Old Bailey, Gazmir Nuzi, 43, of Barclay Road, Tottenham, north London, was jailed for 10 months.
Last year, he pleaded guilty to facilitating unlawful immigration.
The father-of-three had admitted his limited role in smuggling, but denied being a member of the organised crime group behind multiple trips from the continent dating back to May 2018.
The court heard the Albanian national picked up his nephew and another man after they were smuggled to the UK in the back of a lorry on 11 October 2019.
Just under two weeks later, the 39 people died as they followed the same route, having been in the container for at least 12 hours.
Mr Justice Sweeney told Nuzi: "You were aware your nephew wanted to come to this country and you had sought to dissuade him from coming.
"But on 10 October 2019, your nephew had informed you, while en route to the UK, that he would be arriving in Essex the following day.
"You went to pick him up because you did not want to leave him alone in a foreign country or with the people smugglers and your nephew asked you to give the other man a lift, which you did, eventually dropping him at his request at Wood Green in London and thereafter allowing your nephew to live at your address."
The prosecution accepted that Nuzi was not a member of the organised crime group behind the smuggling operation.
Nuzi has spent months in custody and Mr Justice Sweeney told him the sentence should result in his "imminent release".
Seven other men are yet to be sentenced for their involvement in the smuggling ring.