Essex lorry deaths: 'Every cog' in people smuggling plan 'in the know'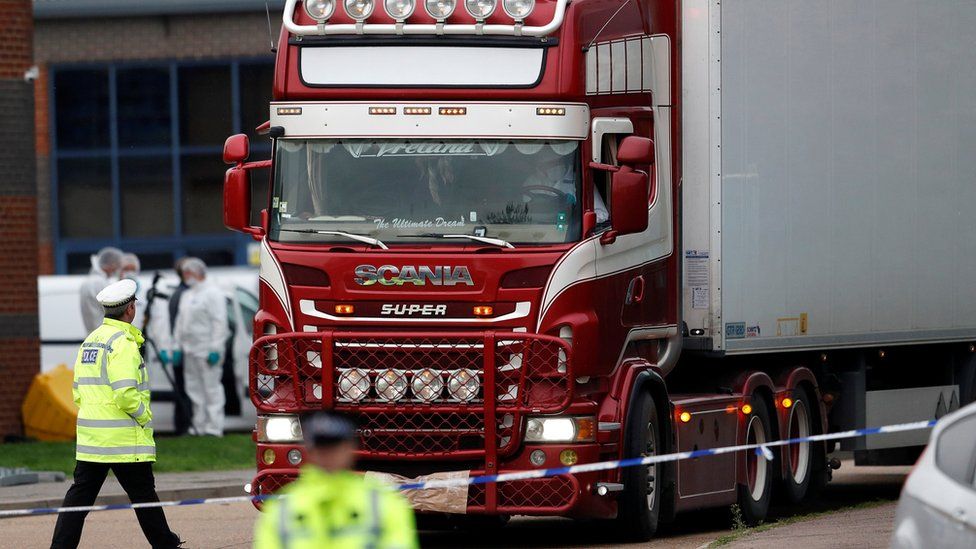 Every "cog in the wheel" of the people-smuggling operation that ended in the deaths of 39 migrants in a container was in the know, a court has heard.
Four men are accused of being part of a wider people-smuggling plot after the Vietnamese migrants were found in a lorry trailer in Essex in October 2019.
In his closing speech after nine weeks of evidence, prosecutor Bill Emlyn Jones challenged the defendants' claims they were not aware what was going on.
Two of the men also deny manslaughter.
The trial has heard the 39 Vietnamese victims, aged 15 to 44, suffocated in the sealed trailer en route from Zeebrugge in Belgium to Purfleet in Essex.
Mr Emlyn Jones told the jury: "It's organised crime and it is an organisation with a number of moving parts and for it to work everyone needs to know their role, perform their role correctly... not mess it up.
"With quite so much money at stake none of that can be left to chance."
The court has heard that a consignment of 15 people represented - at £10,000 a head - £150,000.
Mr Emlyn Jones said if they "get greedy" and squeezed 39 migrants in one trailer, there was £390,000 to be made for a single shipment which was "almost all profit".
He went on: "It is, we say, inconceivable that serious and organised criminals would get involved in a network without precise agreement [about] how the money would be divvied up and how much money was involved.
"If any cog in the wheel does not know what they are dealing with - there is immediately and obviously a risk of the whole thing going wrong and I suggest no organised criminal group would entertain that risk for a second.
"Everyone we suggest has to be in the know. It's just a question of common sense."
Eamonn Harrison, 23, of County Down, and Gheorghe Nica, 41, of Basildon, Essex, have denied 39 counts of manslaughter.
Mr Harrison, Christopher Kennedy, 24, of County Armagh, and Valentin Calota, 38, of Birmingham, deny being part of the people-smuggling plot.
Mr Nica has admitted people smuggling but denies a charge relating to the fatal trip.
Irish haulier boss Ronan Hughes, 41, and lorry driver Maurice Robinson, 26, have previously admitted manslaughter.