Covid-19: Why Essex is divided over tier 2 rules
By Phil Shepka, Rachael McMenemy & Laurence Cawley
BBC News
Essex is to face tougher tier two Covid-19 measures from Saturday - but some parts of the county are exempt from the new rules. How will people be affected?
The towns playing by different rules
In most parts of Essex, people from different households will be banned from mixing indoors from Saturday.
But that is not the case in Southend and Thurrock, in the south of the county.
Those towns are run by unitary authorities and are not currently covered by the tier two rules.
The rest of Essex, meanwhile, is controlled by the county council, which requested the restrictions before they were imposed by government.
While businesses elsewhere in Essex prepare for quiet weekends, Southend and Thurrock are braced for a possible influx of visitors.
Pebbles One cafe owner Paul Thompson, who has been a trader on Southend seafront for 18 years, said he felt he had received "mixed messages" over the new regulations.
"On Thursday night, we had an email from the council asking business owners to verify where customers were from prior to entry, so basically saying we need to ID people to see if they're from outside of the borough," he said.
"I'm sat here now on a Friday with the new regulations coming into force at midnight and I haven't a clue what I'm supposed to be doing because everybody is telling me something different."
Syed Waheed runs a luxury car company in Southend which offers airport, business and chauffeur services.
"The problem is because of the way everything is changing so fast that not everybody is sure what's going to happen next week," he said.
He estimated he had lost about 90-95% of his business since March.
"If these restrictions are going to be in place for the next six months, to be honest, I don't think the business will last three months, let alone six months."
The 29-year-old said Christmas was "a massive time for us" but there were no bookings in the diary, which was "absolutely heartbreaking".
"It's something that I love doing. I've got two young kids as well and at the moment life depends on this business because we have invested every single penny in this," he said.
Southend Borough Council said it had not asked for the town to be moved into tier two but it remained "seriously concerned" by the increase in positive Covid-19 cases.
Trevor Harp, an independent councillor, said: "At the current time we do not believe that our rate of infection merits a request to move up tiers.
"However, we are very concerned about how quickly our rate is increasing and we will therefore continue to monitor our local data closely and daily, and are ready to take proactive action if we believe it is needed to prevent further spread."
Leader of Thurrock Council, Rob Gledhill, said "common sense has prevailed" over the decision to exclude them from tier two restrictions.
He said the restrictions in the rest of the council could "impact [residents] on their ability to visit and meet up with family and friends".
The families that feel divided
Alison Biddlecombe lives in Manningtree, in north east Essex. Her elderly parents, both aged 81, live just across the street from her.
But from Saturday she will not be able to visit them in their home, or entertain them in hers.
"My parents sold their car six weeks ago so I have been driving them to things like GP appointments," she said. "Will I still be able to do that? Or does being in a car mean we are indoors?
"It is really confusing."
Tracy Hubble lives near Haverhill, just over the border in Suffolk. She was planning to visit her elderly parents, who live in Basildon. Essex, on Saturday.
Now, because of the new tier system, she has had to abandon that plan.
"I'm just so angry because I could go into their home if I was a tradesman who might have been visiting all sorts of other homes during the week," said Mrs Hubble, who during the week helps children with autism get to and from school.
"I've put off seeing them the last couple of weekends because the weather has been so bad so I thought I could go down and see them this weekend," she said.
Her parents, aged 85 and 90, already have a separate support bubble with Mrs Hubble's sister, who lives much closer to her parents, meaning she cannot visit them under the bubble system either.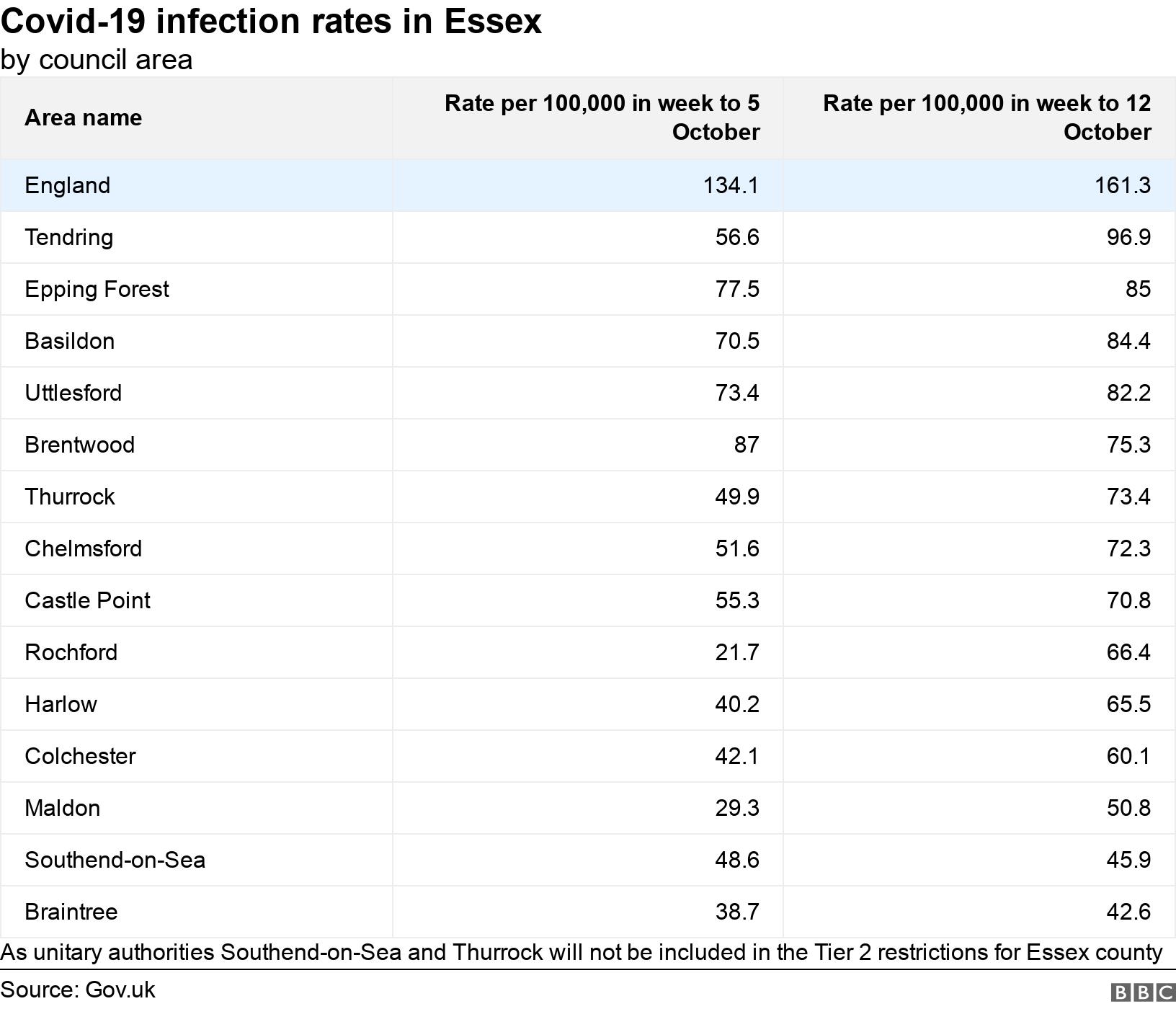 Confusion over borders
Bulmer is the birthplace of the artist Thomas Gainsborough, one of Suffolk's most famous sons.
Many who live in the village include Suffolk in their addresses but it actually comes under Essex County Council and is subject to the higher restrictions.
The issue of whether it is part of Essex or Suffolk has become a hot topic on Bulmer's Facebook page.
Bulmer resident Jacky Ling, who runs a business development firm, said: "Everybody seems to be talking about whether we are in tier one or tier two.
"I found myself responding saying I think we're in Essex. The boundary is just at the edge of the village. It is a very bizarre situation."
Down the road from Bulmer, Tom West is landlord of three pubs - two on the Essex side of the border in Manningtree and Dedham, and one in Ipswich.
"We anticipate quite a drop-off in business," he said. "What I am really fearful of is how this will impact on our staff, who have been brilliant throughout the pandemic."
His Dedham pub - The Marlborough Head - is just 150m (450ft) or so from the border with Suffolk.
"I don't really understand the logic of it. I didn't really understand the logic of the 22:00 closing time either because you ended up with everybody outside waiting for taxis at the same time.
"It really irritates me that less than 1,000m up in Brantham (which is in Suffolk) you could to a live music event with your friends this weekend. At our pub in Manningtree, you could not."
He said he felt it unfair that the tier two restrictions would be imposed county-wide, regardless of whether people live in towns or in rural areas with lower levels of coronavirus infections.
Essex's director of public health Dr Mike Gogarty said a move to tighter social restrictions in Essex was vital in order to "slow down" accelerating Covid-19 case numbers.
He added the area would have higher restrictions "for a much shorter time if we can get in early".
When announcing the new restrictions in places including Essex in the House of Commons on Thursday, Health Secretary Matt Hancock said: "I know that these measures are not easy but I also know that they are vital."
"Responding to this unprecedented pandemic requires difficult choices, some of the most difficult choices any government has to make in peacetime."