Essex and London car theft raids: About 450 officers take part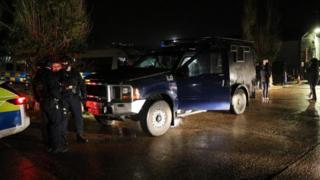 About 450 police officers have taken part in raids as part of an investigation into thefts of cars worth a total of up to £4m.
More than 20 properties were raided in Essex and in London at about 05:45 GMT.
Essex Police said 15 arrests have been made so far, 25 stolen vehicles have been found and £150,000 has been seized as well as £90,000 in jewellery.
The operation was carried out by Essex Police and the Met Police, along with British Transport Police.
It follows an investigation into a gang suspected of stealing about 90 cars - worth a total of up to £4m - since November 2018.
Raids were carried out in the Chelmsford, Braintree, Southend, Basildon and Uttlesford districts and London, mainly in the east of the capital.
'Unsuspecting victims'
Acting Supt Lewis Basford said they had been "targeting a specific group that had been offending, taking high-end value vehicles" and had also seized hi-tech equipment used to steal vehicles without a key.
"We believe this gang are responsible for the theft of vehicles from across the whole of Essex, London and car parks linked to the British Transport Police, particularly high-end Range Rovers and sports cars," he said.
"The offences that we believe the group are responsible for [involved] using technology using keyless entry... and equipment used to automatically start a vehicle without the key being present in the offender's hand."
Individuals responsible for the coding of new keys, thus enabling vehicles to be cloned and sold to unsuspecting victims, were also targeted, Supt Basford said.
He added that the raids were "just the start of the operation to tackle the theft of motor vehicles".
A cannabis factory with 200 plants was uncovered and 10 stolen van flatbeds were also recovered.