Harwich Mayflower replica to visit London Liverpool Street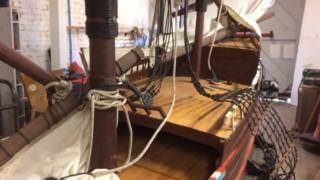 An 18ft (5.49m)-long sculpture of the ship that took the Pilgrim Fathers to America is "sailing" to London ahead of the 400th anniversary of the voyage.
The replica of the Mayflower, the original of which is believed to have been built in Harwich, Essex, will go on display at Liverpool Street station.
It is hoped the project will encourage people to visit Harwich ahead of the 400-year celebration in 2020.
A bid to build a life-size replica and museum in the town is also under way.
The model goes on display on Wednesday after being transported by road to the capital's railway station.
Tony Elliston, chairman of the Harwich Mayflower Heritage Centre, hoped their model would help show the historic links Harwich has, not just to the Mayflower, but also its naval yard, fort and medieval history.
He said: "I think many people don't know the historic links Harwich has, not just the Mayflower, and to take the model to Liverpool Street will promote Harwich."
The vessel, which transported the first English pilgrims to the New World, famously set sail for America from Plymouth in 1620.
The puritans set up the Plymouth Colony in what became the US state of Massachusetts.
Mr Elliston said there was a potential increase of 11 million US tourists to the UK to coincide with the 400th anniversary and he wanted to maximise the number of those who visit Harwich.
He also said there were plans for a life-size replica and hopes for a new museum.
"This is not just building towards 2020, we have 25-year leases and we are looking to build something for the future," he said.
The Mayflower was built in 1590, although it is not known where, and was based in Harwich until 1610.
Harwich was the home of Capt Christopher Jones who led the Pilgrim Fathers voyage.
His home is being converted into a museum ahead of the 400th anniversary.
A sculpture is also due to be installed on a roundabout near to Harwich International Port.
The Mayflower
Constructed in approximately 1590, there are no records of where the ship was built but it is believed to have been Harwich or another East Anglian port
After construction, she was based in Harwich until 1610, along with her master Christopher Jones
The Mayflower left Plymouth in Devon on 6 September 1620
The Atlantic crossing took 66 days, carrying 102 passengers
The ship dropped anchor off Cape Cod on 11 November 1620 before establishing the colony of New Plymouth in the modern-day US state of Massachusetts
More than 600 young carpenters and engineers started building a replica ship in Harwich in 2016
The plan to build a seafaring replica received the backing of Sir Richard Branson, who called it a "brilliant, audacious project"
Source: BBC