Escaped Colchester black fox found dead on A12 in Essex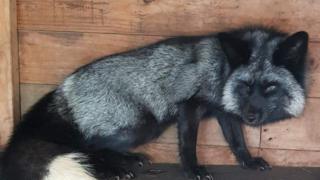 A rare black fox that escaped in a suspected break-in at a temporary enclosure has been found dead on the side of a busy road.
The animal, which had come from a farm in Wales, was one of three that went missing from a garden in Colchester, Essex on Thursday.
Owner Richard Aston managed to find two, but the third - a young male called Catori - was still missing.
He said the animal died on the A12 on Monday morning after being hit.
The foxes, which are not native to the UK, were being housed overnight in an outdoor enclosure at Mr Aston's parents' home in the Mile End area.
A hole was found at the back which he believed was made deliberately, allowing the animals to escape.
Two-year-old Catori's "devastating" death had left the animal's mate, a vixen called Willow, "freaking out", he added.
The foxes are a type of North American red fox with a trait that makes their fur silvery black in colour.
Black Foxes UK said about 0.1% of foxes in the UK were melanistic (black).
Correction 1 May 2019: This article has been amended to clarify that the animals originally came from a farm in Wales.