George Acres death: Mother of seven-year-old pleads insanity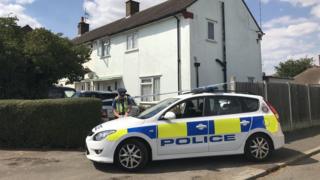 A mentally-ill woman strangled her seven-year-old son then drowned him in the bath, a court heard.
Christina Acres, 37, admits killing George Acres in Rochford, Essex, last July but has pleaded not guilty to his murder, citing insanity.
Psychiatrists "appear to agree" with her plea, Basildon Crown Court heard.
But Judge Mrs Justice Christina Lambert said that "only a jury can return a special verdict of not guilty by reason of insanity".
Andrew Jackson, prosecuting, told the court that Ms Acres had a history of mental illness and deteriorated quite rapidly in the month before the killing, on 23 July 2018.
The defendant, who was living at her parents' home in Rochford Garden Way, smoked up to 20 cannabis cigarettes per day to self-medicate for fibromyalgia, Mr Jackson said.
'Disturbing thoughts'
He told the court how three days before the killing, Ms Acres' mother took her to A&E after symptoms of her psychotic illness "had begun to manifest", but they were advised to go to their GP for medication.
"She had told her father that she believed people were out to kill her and her family, and she displayed other disturbing thoughts," said Mr Jackson.
The court heard that on the day of George's death both Ms Acres' parents had gone to work, but at about 09:20 BST she called her father "and repeatedly asked him to come home".
Mr Jackson said that in a later call, "she told her father she had just strangled George and wanted to... kill herself.
"He immediately called his wife and she raced home. There, she found George's body."
The trial, estimated to last four to five days, continues.