John Pordage murder: Bradley Blundell's 'helpers' face charges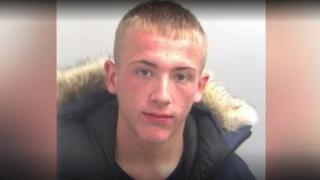 Three people could be charged with helping a killer evade justice after he shot a man over a "nice bum" comment.
Bradley Blundell, 19, gunned down electrician John Pordage after a row about a woman at a BP petrol station in Chelmsford, Essex, in August last year.
He fled to Europe for eight months before being convicted of murder on Wednesday at Woolwich Crown Court.
Essex Police now says it is awaiting a charging decision on a 17-year-old and two men, aged 20 and 23.
They were arrested on suspicion of assisting an offender and a file passed to the Crown Prosecution Service.
Four people, including Blundell, have been convicted of perverting the course of justice in the case.
Blundell and a 16-year-old boy attacked 34-year-old Pordage and his friend, after one of the men allegedly made a "nice bum" comment to a woman they were with.
The court was told the boy struck Mr Pordage with a cosh before Blundell, who had denied murder, fired two shots, one of which missed.
Blundell, of Cromwell Close, Boreham, then fled to France by hiding in the boot of a car, before eventually surrendering in Amsterdam.
An international warrant was issued last February and he was arrested on 1 April.
He confirmed at his trial that others had helped him flee the country. The judge warned him to expect a lengthy life sentence.
Who has been before the courts?
Five teenagers were in a Ford Fiesta at the BP petrol station on Baddow Road.
They included driver Ella Colgate, 18 of Aldridge Close, Chelmsford, who was the subject of the alleged "nice bum" comment.
She and Blundell were both convicted on Wednesday of perverting the course of justice.
In March, while Blundell was still on the run, a 16-year-old was cleared of murder but detained for eight months for perverting the course of justice.
Co-defendant Saul Stanley, 18, was given a five-year sentence for the same charge and four firearms offences.
Mr Pordage's mother, Sue Wilson, described Blundell as "cowardly and selfish" and said his arrest warrant should have been issued months earlier.
"The police are doing as much as they can to bring other people involved [to justice]," she added.
"I hope the CPS will make a decision soon."
In a statement, Essex Police said: "We did look closely at a number of people we suspected may have been helping him.
"A 33-year-old man from Chelmsford was interviewed on suspicion of assisting an offender, but there was insufficient evidence to bring any charges."