Basildon: Tovi Eco Park row could cost taxpayers £13m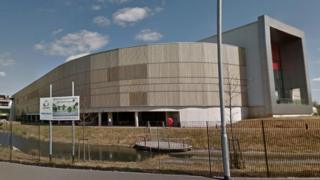 A legal battle over a multi-million pound waste disposal plant could cost taxpayers £13m, a court has heard.
The dispute between Essex County Council (ECC) and Urbaser Balfour Beatty (UBB) is over claims the Tovi Eco Park Facility, on Courtauld Close, Basildon, is not operating properly.
The council told the Technology and Construction Court it should be allowed to end its contract with UBB.
But UBB claims the council is sending "the wrong type of waste" to the plant.
It was designed to convert 420,000 tonnes of mixed waste into pellets which could then be burned to create energy, but the plant is still in the testing phase, three years after it was due to be up-and-running.
The court heard the case, which is due to go to trial in April next year, centred on the £800m Private Finance Initiative contract.
'Wrong waste'
ECC will argue the waste contractor has not fulfilled its contractual duties since 2016 and should be allowed to exit the 28-year deal without financial penalties.
UBB denied any failings and told the court that the "wrong kind of waste" was being delivered to the facility.
The total cost of the action is expected to reach £24m, with £13m coming from the public purse, the Local Democracy Reporting Service (LDRS) said.
A spokesman for ECC said there would be "an opportunity to seek redress for legal costs should ECC be successful at the hearing next spring".
He added: "We intend to publish the total sum incurred on legal advice on conclusion of the contractual dispute. Due to ongoing legal proceedings, it would be inappropriate to comment further at this time."